KMDB Unveils its BTR-4 8x8 Armoured Personnel Carrier at IDEX'2009
Category: Defence Industry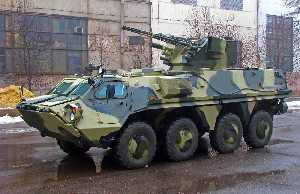 KMDB, the leader of the Ukrainian armoured construction, will demonstrate the latest variant of its BTR-4 APC with PARUS weapon station.
Depending on potential customers' requirements, the BTR-4 APC can be powered by one of the following three engines: Ukrainian 3TD, German Deutz, or Italian Iveco.
Due to its modular design, the BTR-4 can be used for development of a whole family of fighting vehicles. It also offers high level of ballistic and anti-mine protection. The basic protection level can be increased with the help of add-on armour.
The vehicle is fully amphibious and can move in water at speeds of 8-10 km/h.
Parus Remote-Controlled Overhead Weapon Station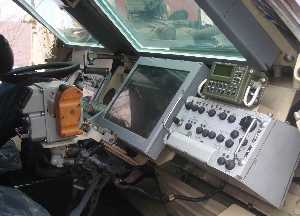 The armament of the BTR-4 that will be demonstrated at IDEX'2009 consists of the Parus remote-controlled overhead weapon station (OWS) equipped with 30 mm 3TM-1 automatic gun, 40 mm automatic grenade launcher, 7.62 mm machine gun and Barrier anti-tank guided missile system (max firing range is 5,500 m). The main advantage of the Parus OWS is that it does not occupy the inner space of the vehicle and makes it possible to carry out maintenance from inside the vehicle under the complete armour protection of the hull.
About SOE KMDB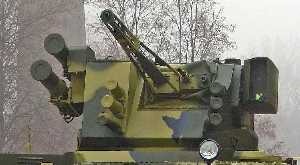 The Kharkiv Morozov Machine Building Design Bureau (KMDB) is a state-owned enterprise, which is now Ukraine's leading design authority for armoured fighting vehicles and used to play a key role in the development of armoured tracked vehicles in the former Soviet Union.
The contemporary activities of the KMDB are distinguished by three main factors:
the ability to offer customers a wide range of armoured vehicles and other products for both military and civil use, as well as obsolete vehicle upgrade packages
the provision of equipment closely tailored to customer's individual requirements
the availability of long-term support for the end user
Sergyi Way
21.02.2009



www.army-guide.com