Force Dynamics, LLC Receives Award for Cheetah M-ATV Vehicles
Category: Defence Industry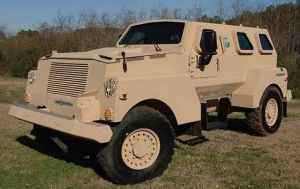 Ladson, SC -- Force Dynamics, LLC, a joint venture between Force Protection, Inc. and General Dynamics Land Systems, a business unit of General Dynamics, today announced that it was awarded a contract for two Cheetah light weight, high mobility Production Representative Vehicles (PRVs) as part of the U.S. Army Tank-Automotive and Armaments Command (TACOM) Mine Resistant Ambush Protected All Terrain Vehicle (M-ATV) program.
The value of the award is $1 million. The two vehicles were delivered on February 23rd and met the government's initial requirements. The Cheetah vehicle, which has been in development since late 2005, previously successfully passed testing to MRAP I survivability levels and has undergone initial mobility and durability testing at the Nevada Automotive Test Center.
Damon Walsh, executive vice president for Force Protection and program director of Force Dynamics, commented, "Delivery of these first test vehicles and the subsequent sale to TACOM is an important milestone gate in the M-ATV competition. We have long believed that there was a need for a lightweight, highly mobile and highly survivable tactical wheeled vehicle to supplement the current fleet. We are proud, not only to have pioneered the MRAP category of vehicles with our Cougar MRAP, but to have foreseen – through the development of the Cheetah – the need to evolve the category with enhanced mobility to navigate the rugged terrain and wider variety of missions that characterize the conflict in Afghanistan. Our troops can't afford to choose between mobility and survivability; they deserve both and the Cheetah was designed to meet this very requirement."
The Cheetah provides the same level of survivability as the Cougar at approximately half the curb weight. The M-ATV Cheetah incorporates several improvements to the original FPI Cheetah, including independent suspension, additional interior capacity, and a significantly increased power-to-weight ratio. Cheetah is well positioned to meet the two most important criteria of the selection process: survivability and mobility.
The strong partnership between Force Protection and General Dynamics Land Systems as well as a strong suite of OEMs and partners will allow Force Dynamics to successfully execute on the aggressive procurement schedule required to deliver this urgently needed survivability solution to the conflict in Afghanistan. Together, Force Protection and General Dynamics have successfully delivered over 3,000 Mine Resistant Ambush Protected (MRAP) Category I and Category II vehicles under the MRAP program. Force Protection has commenced low-rate production of the Cheetah at its Ladson, South Carolina, facility and Force Dynamics has begun to procure long-lead materials to move from limited to extended production of Cheetah vehicles.
Mike Cannon, chairman of the board for Force Dynamics and vice president, Ground Combat Systems, at General Dynamics Land Systems, commented, "We are confident that the respective strengths of each of the partners contributing to this effort position our submission extremely well. We believe we offer an unmatched combination of research and development expertise; manufacturing ability and an excellent logistics network to our customer. We are excited to enter the testing and evaluation phase of the M-ATV program and to have the continued opportunity to serve our customer and the war fighter with some of the most important and life-saving equipment on the battlefield."
About Force Protection, Inc.
Force Protection, Inc. is a leading American designer, developer and manufacturer of survivability solutions, predominantly ballistic- and blast-protected wheeled vehicles currently deployed by the U.S. military and its allies to support armed forces and security personnel in conflict zones. The company's specialty vehicles, the Cougar, the Buffalo and the Cheetah, are designed specifically for reconnaissance and urban operations and to protect their occupants from landmines, hostile fire, and improvised explosive devices (IEDs, commonly referred to as roadside bombs). The company also is the developer and manufacturer of ForceArmor™ an armor package providing superior protection against explosively formed projectiles (EFPs) now available for a wide range of tactical-wheeled vehicles. The company is one of the original developers and primary providers of vehicles for the U.S. military's Mine Resistant Ambush Protected, or MRAP, vehicle program.
About General Dynamics Corp.
General Dynamics, headquartered in Falls Church, Va., employs approximately 92,300 people worldwide. The company is a market leader in business aviation; land and expeditionary combat systems, armaments and munitions; shipbuilding and marine systems; and information systems and technologies. More information about the company is available on the Internet at www.generaldynamics.com.
Force Protection, Inc. Safe Harbor Language
This press release contains forward looking statements that are not historical facts, including statements about our beliefs and expectations which are forward-looking statements. These statements are based on beliefs and assumptions by Force Protection's management, and on information currently available to management. Forward-looking statements speak only as of the date they are made, and we undertake no obligation to update any of them publicly in light of new information or future events. A number of important factors could cause actual results to differ materially from those contained in any forward-looking statements. Examples of these factors include, but are not limited to, the ultimate selection of Force Dynamics under the M-ATV Program, our ability to fulfill any order for the Cheetah on a timely basis, our ability to effectively manage the risks in our business, the reaction of the marketplace to the foregoing and other risk factors and cautionary statements listed in the Company's periodic reports filed with the Securities and Exchange Commission, including the risks set forth in the Company's 2007 Annual Report on Form 10-K for the year ended December 31, 2007and Quarterly Report on Form 10-Q for the period ended September 30, 2008.
Force Protection
12.03.2009

Share...





Rheinmetall MAN Survivor R special protected vehicle on show at GPEC 2020 international security exhibition in Frankfurt/Main
24.02.2020
The Dutch armed forces select Rheinmetall to modernize their Bergepanzer 3 Büffel
17.05.2019
BAE Systems awarded Armored Multi-Purpose Vehicle contract modifications by U.S. Army for Low-Rate Initial Production
24.02.2019
Rheinmetall Mission Master Dominates European Ground Robotic Systems Competition at ELROB 2018
04.11.2018
GWI CHEETAH SPAAG (Anti-aircraft system)
Discuss