QinetiQ`s Dragon Runner robots are sent to Afghanistan to support British troops
Category: Robots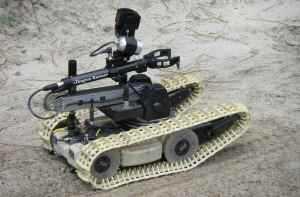 Responding to an urgent operational requirement QinetiQ, a leading international supplier of military robots, today announced that it has been awarded contracts by the UK Ministry of Defence (MOD) to supply approaching 100 Dragon Runner robots, associated spares and technical services to support of current military operations in Afghanistan.
Dragon Runner is a small, rugged robot that weighs between 10-20kg depending on the chosen configuration. It can be easily carried by a soldier in a backpack and is robust enough to operate in rough terrain to help protect troops. The variant selected by the UK MOD is equipped with a manipulator arm to assist with the disarming of improvised explosive devices but the versatility of the Dragon Runner platform means that it can also be configured for a variety of other reconnaissance and surveillance operations. The Dragon Runner robot is also able to operate in sewers, drainpipes, caves and courtyards to detect danger.
Already being deployed, the all-seeing, all-listening Dragon Runner has the ability to send back video footage back to the operator at a safe distance thereby enabling troops to assess a situation prior to moving forward or entering a structure, potentially safeguarding lives.
The backpack-able Dragon Runner is particularly suited to operational environments similar to those experienced in Afghanistan where the road system has been ravaged by almost continuous fighting since the late 1970s and where many troop movements are conducted either on foot or by helicopter. The use of robots also has significant benefits in Afghanistan where the United Nations estimates that 200,000 people have been disabled by landmines and the explosive remnants of war.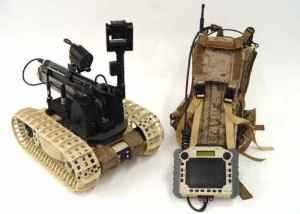 QinetiQ's initial contract with the UK MOD is valued at over £12m. This includes the supply of replacement parts and the provision of support throughout the operational life of the systems. This is an essential part of a UK based maintenance and support plan that has been carefully designed to enable the UK MOD to return battle-damaged robots to active duty as quickly as possible.
Dragon Runner was originally developed by Automatika, a US company acquired by QinetiQ North America. The robot has since been further developed as a result of UK and US military user input and it can travel at speeds of around 5mph, travel over rough terrain, as well as climb stairs and open doors.
The basic chassis is 20cm wide, 7.5cm tall and 23cm in length and can be easily adapted in the field with various accessories and a manipulator arm to be mission specific. In addition to IED identification and defeat, other functions include perimeter security, checkpoint security and the inspection of suspect vehicles.
"With this very important contract and our work with the UK and US military, Dragon Runner is set to become a vital tool in military campaigns throughout the world," said Mary Carver, MD of QinetiQ's Technology Solutions business. "The majority of the 3,000+ military robots that we have delivered to our customers so far are being used to disable roadside bombs however we're now seeing increased demand for military surveillance and reconnaissance as well as for homeland security and specialist intelligence operations."
Sergyi Way
16.11.2009



www.army-guide.com
QinetiQ and Pratt Miller Deliver First Robotic Combat Vehicle - Light to U.S. Army
02.02.2021
BAE Systems Teams with QinetiQ to Pursue Electric Drive on Combat Vehicles
04.06.2017
QNA Partners with Persistent Systems to Integrate MPU5 Radios into Family of UGV
12.01.2017
BAE Systems` Team Challenger® 2 awarded Assessment Phase for Life Extension Project
25.12.2016
Dragon Runner Throwbot (Robot, Unmanned Vehicle)
Dragon Runner 10 (Robot, Unmanned Vehicle)