General Dynamics to Supply 250 RG-31 MRAP Vehicles to the U.S. Defense Department
Category: Contracts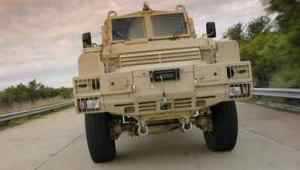 LONDON, Ontario, Canada -- U.S. Marine Corps Systems Command (MCSC) has awarded General Dynamics Land Systems-Canada a $227.4 million delivery order to produce 250 RG-31 Mk5E vehicles for its Mine Resistant Ambush Protected (MRAP) vehicle program.
General Dynamics Land Systems, the Canadian company's parent corporation, is a business unit of General Dynamics.
Vehicle production will occur at BAE Systems Land Systems OMC of Benoni, South Africa. Deliveries will be completed by October 2010.
This contract is in addition to the 1,402 RG-31 Mk5 vehicles already supplied by General Dynamics under the MRAP program. Separately, an additional 584 RG-31s were previously ordered by the U.S. Army TACOM Life Cycle Management Command for route-clearance vehicles.
"We appreciate the confidence that the U.S. military has in the RG-31 vehicle, as they conduct their missions in a dangerous and uncertain environment," said Dr. Sridhar Sridharan, senior vice-president of General Dynamics Land Systems-Canada. "We are pleased to have the opportunity to once again assist in protecting the lives of U.S. soldiers."
The contract was signed through the Canadian Commercial Corporation, a Crown Agency of the Canadian Government.
General Dynamics
18.02.2010

KONGSBERG CONCLUDES A $ 54 MILLION CONTRACT FOR THE DELIVERY WEAPON STATIONS TO CANADIAN ARMY
05.06.2020
Germany awards 159 MUSD vehicle contract to GDELS
24.04.2020
Switzerland awards contract to General Dynamics European Land Systems- Mowag to deliver 100 EAGLE 6x6 reconnaissance vehicles
06.12.2019
General Dynamics Land Systems–UK showcases adaptable Foxhound vehicle at DSEI 2019
23.09.2019
General Dynamics Land Systems - GDLS
General Dynamics Ordnance and Tactical Systems
General Dynamics European Land Systems-Mowag GmbH
General Dynamics Santa Barbara Sistemas
General Dynamics Armament Systems
General Dynamics Defence Systems
General Dynamics European Land Systems-Steyr GmbH
General Dynamics Armament and Technical Products (GDATP)
General Dynamics Amphibious Operations - GDAMS
General Dynamics Corp., Advanced Information Systems
General Dynamics Robotic Systems - GDRS
General Dynamics Land Systems - GDLS - Canada
General Dynamics European Land Systems - GDELS
RG-33 MRAP II (Mine protected carrier)
Cougar MRAP (Mine protected carrier)
Caiman MRAP (Mine protected carrier)
LAZAR BVT 8808-SR MRAP (Mine protected carrier)
MRAP-VVT (Crew training simulator)