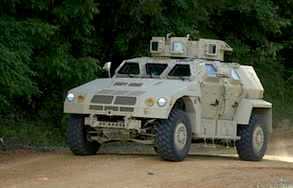 ARLINGTON, Va. -- The U.S. Army and Marine Corps are using the newly built government prototypes of the Joint Light Tactical Vehicle to refine program requirements through rigorous ballistic, performance and reliability testing.
It's all part of an effort to field a next-generation tactical vehicle that can hit speeds of 70mph, withstand roadside bombs and other threats, drive through off-road terrain and fly through the air beneath a CH-47 Chinook or CH-53 helicopter, service officials said.
"The whole purpose of this TD (technology development) phase is to get the requirements right," said Brett Johnson, JLTV chief engineer.
The three contractor teams for the current 27-month technology development phase -- BAE-Navistar, Lockheed-BAE and General Tactical Vehicles -- each delivered seven prototype vehicles engineered to reach an unprecedented blend of performance, payload and protection.
Following a Milestone C production decision in 2013, the Army plans to buy 55,000 JLTVs and the Marines plan to buy 5,500. Full production is slated for 2015.
"The JLTV Program is implementing the competitive prototyping policy for the Army. What we have in this technology development phase is three contractor teams to help us inform our requirements," said Lt. Col. Wolfgang Peterman, JLTV product manager. "As we get results from the testing, we will feed that back into our requirements."
The Army-led program will put the vehicles through blast, mobility and performance testing at Aberdeen Proving Ground, Md., and reliability testing at Yuma Proving Ground, Ariz., as part of an effort to refine the requirements for the next phase of the competition, the Engineering and Manufacturing Development, or EMD phase.
Ballistic hulls and armor coupons have already been tested; now the vehicles will undergo additional survivability testing against a variety of known and anticipated threats, program officials said.
A formal request for proposal for the EMD phase is slated for June 2011, to be followed by contract awards in December of 2011, Peterman said.
"When we go to EMD phase, it will be a full and open competition again. Our plan is to award two contracts for the EMD phase," he said.
The testing during the TD phase is aimed at lowering risk and production costs by finding and solving challenges which may arise earlier in the developmental process.
"We're developing prototypes and requirements for the next phase so that when we enter the next phase we will have a low-risk program," said Dean Johnson, Marine Corps deputy program manager, JLTV.
The vehicles are built with 85-percent common parts. For example, all of the JLTV variants are built with a 2500 series Allison 6-speed automatic transmission.
There are three different variants or categories of JLTV:
Category A is a four-person general purpose vehicle with a curb weight of 13,000 pounds and the ability to carry 3,500 pounds of payload and 3,500 pounds of add-on armor.
Category B is six-person infantry carrier with a curb weight of 15,000 pounds. It is able to add 4,500 pounds of payload and 4,000 pounds of armor.
Category C vehicle is a two passenger utility vehicle with a short cab/open bed for hauling equipment or putting on shelters. Category C has a curb weight of 15,000 pounds can carry 5,100 pounds of payload with crew, fuel, gear and a full compliment of armor.
In addition, the Army and Marine Corps are preparing to accept delivery of a new Enhanced Protection Variant of the JLTV, which is a modified Category A vehicle designed with additional protections. Each of the vendors will deliver an Enhanced Protection Variant in the next several months, program officials said.
Engineering Challenge
The JLTV is engineered to push the envelope of technological possibility and build a light tactical, mobile vehicle which has the ability to thwart IEDs and other kinds of attacks.
"The basic challenge that we faced was trying to create a total integrated prototype, not so much a particular challenge with a subsystem but rather putting all the systems together and still meeting our full payload, full protection and full performance envelope," said Brett Johnson.
The vehicles are built with variable ride height suspension designed to give the chassis the ability to raise and lower off the ground depending on road conditions. The suspension can raise and lower the vehicles from five inches off the ground to fit on some of the Marine Corps ships all the way up to up to 22 inches off the ground for maximum protection from under blast attacks and IEDs, Brett Johnson said.
"Two of the vendors chose an air-bag style suspension to raise and lower the vehicle which you see on commercial tucks. The third one chose a hydropnuematic strut with a compressible fluid to raise and lower the vehicle," he said.
Each one of the prototype vehicles has four-wheel independent suspension which uses a double-wishbone racecar-like suspension -- two wishbone-shaped structures that work to keep the vehicle's wheels in a perpendicular position to the ground, Brett Johnson said.
Also, all the vendors employed a central tire inflation system which is an on-the-fly system that can regulate tire pressure; the system can adjust tire pressure from higher pressures for higher speed conditions on flatter roads to much lower pressures in soft soil such as sand or mud, said Brett Johnson.
Instead of having a belt-driven alternator, the vehicles are built with an integrated generating system that is sandwiched between the engine and transmission.
"A flat alternator is more efficient. These are very efficient machines for generating power, much more than a belt-driven machine," said Brett Johnson.
The JLTV has a requirement to generate 30 kilowatts of exportable power -- to include 10 kilowatts of on-board 28-volt DC power.
"There's a point at which alternators reach their maximum. We have as big as 500 amp alternators out there; the problem is they take a lot of RPMs in the engine to keep the speed high enough on a belt-driven system to get the power out of them. Once you get past about 1500 RPMs -- you are racing the engine. These systems can generate steady stream of three to four times as much power at 1300 RPMs," said Brett Johnson.
There is a requirement for a general range of 400 miles in this phase, but that will likely lower to 325 after looking at how much fuel the vehicles can carry, he said.
International Efforts
The U.S. and Australia have entered into a Land Force Capability Modernization Project Arrangement for the TD phase of the JLTV, effective as of January of last year.
The Australian vehicles will feature right-hand operation, but the vehicles will maintain 90-percent commonality with the left-handed prototypes. In addition, the Australian vehicles will not exceed a 20 kg weight difference. Australia has contributed $30 million to the JLTV effort.
"We want transportability and reliability as well. We decided to invest in the U.S. program because their program meets a lot of our requirements. We are fighting the same fight and facing the same threats that the U.S. Army faces," said Australian Army Lt. Col. Robin Peterson, JLTV program manager.
The U.S.-Australian collaboration is aimed at reducing risk, lowering costs and enhancing testing and simulation for both countries.