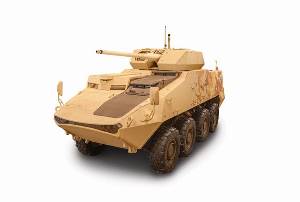 KONGSBERG is unveiling the latest PROTECTOR MCT-30 vehicle integration at the Eurosatory exhibition.
General Dynamics Land Systems and KONGSBERG will unveil its latest vehicle integration at Eurosatory. The PROTECTOR MCT-30 and LAV integration will be exhibited for the first time in Paris during the exhibition.
PROTECTOR MCT-30 provides exceptional lethality at range, growth potential, as well as employment of Air Burst Munitions (ABM). The link-less (ammunition) feeding system, unique to PROTECTOR MCT-30, affords "first round select" as well as reload under armor.
"The PROTECTOR MCT-30 is truly a 'best of breed' product. When you combine experience and innovation at the major component level and combine these into a system that already leverages PROTECTOR commonality and performance, the system is capable of addressing the operational requirements across the turret market," says Espen Henriksen, President Kongsberg Protech Systems.
The system has been undergoing extensive tests and live firing trials over the past year, both in Fort Benning, Georgia in the United States as well as in Kuwait. The live firing events have included static, "static against moving," and "moving against moving" engagements at distances in excess of 2,000m. All the results have been extremely successful. The system has also proven successful in handling anti-tank ground missiles, and has demonstrated excellent results in firing both short and long distances with the Javelin missile.
Over the next year, the KONGSBERG and General Dynamics Land Systems LAV integration will be displayed and demonstrated throughout the world. Soon after Eurosatory the system will make its way to the DVD exhibition in the United Kingdom.