Renault Trucks Defense To Exhibit At The SOFINS Show
Category: Exhibitions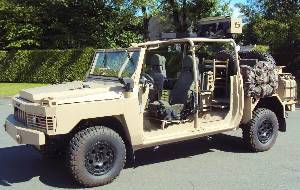 The SOFINS show is to be held at camp de Souge on 14-16 April 2015. On this occasion, RENAULT TRUCKS Defense is to exhibit a range of Special Forces vehicles on its stand.
SOFINS (Special Operations Forces Innovation Network Seminary) provides a forum for discussions between the key players of French and foreign special forces and the Defense industry in seeking innovative solutions. During this event, products and vehicles are to be shown in an exhibition area and during dynamic demonstrations in test areas. Workshops bringing together SMEs, laboratories and Research & Development sections of armed forces will provide an understanding of operational requirements and allow the immediate launching of R&D cooperative programs.
RENAULT TRUCKS Defense will exhibit 5 vehicles on its outside stand:
SHERPA Light Scout (RTD), an armored reconnaissance 4x4 vehicle
SHERPA FS (RTD), a 10.4-ton, open-top hull, 4x4 adaptation, intended for Special Forces
SHERPA APC (RTD), an assault-ladder vehicle version accommodating 10 kitted out operators
VLRA 2 Commando (ACMAT), a 12-ton, engagement-proven, open-top hull, 4x4 vehicle carrying 2+6 kitted out men
ALTV FS (ACMAT), a 3.5-ton, open-top hull, 4x4 vehicle, carrying 3 kitted out men
The SHERPA Light Scout is to perform dynamic demonstrations in specifically laid out 4x4 areas.
This show provides RENAULT TRUCKS Defense with the opportunity to exhibit and demonstrate its know-how in off-road vehicles and its experience in the Special Forces field.
Sergyi Way
13.04.2015



www.army-guide.com
Share...





Nexter and Texelis win the lightweight VBMR contract
13.02.2018
RENAULT TRUCKS Defense offers a new line of vehicles to internal security forces
22.11.2017
First Parade On The Champs-Elysees For The Armysís Future Connected Armorsd Vehicle
25.07.2017
319 GRIFFON and 20 JAGUAR vehicles ordered from Nexter, Renault Trucks Defense and Thales by the DGA as part of the SCORPION program
25.04.2017
Renault Vehicles Industriels, Defence Direction
ACMAT - Ateliers de Construction Mecanique de l'Atlantique
ALTV Torpedo (Tactical vehicle)
Discuss