Ukrainian armored vehicle manufacturers get federal support
Category: Defence Industry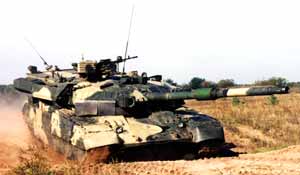 Kharkiv, October 25. The President of Ukraine V.Yuschenko during his visit to Kharkiv was a guest of the Malyshev plant – main Ukrainian manufacturer of armored vehicles and confirmed the defence orders for the next year.
Earlier in this year the Malyshev plant carried out modernisation of 17 tanks T-64, which after modernisation were named MBT BULAT. Besides they got assurance that modernisation would continue and at least 30-40 vehicles a year would undergo modernisation. And now V. Yuschenko personally has confirmed that the plant would get defence orders.
During his visit V. Yuschenko was acquainted with new developments of A.A. Morozov Machine Building Design Bureau (KMDB), among which the biggest interest present main battle tank Yatagan and upgraded tank T-72-120.
These two tanks correspond to the NATO standards. Tank Ò-72-120 was developed in 1999 and at that time it was envisaged that the modernisation could be ordered by the Eastern European countries with the big quantity of tanks T-72 adopted at their armed forces. At present tank T-72-120 is the only operating piece of upgraded tanks that can fire standard 120 mm NATO ammunition. Among its other advantages are auto loader, 1000 hp engine, high degree protection and low weight.
Tank Yatagan took part in trials at tender for the Turkish Main Battle Tank in 2000. Turkey has not yet taken its final decision.
Nowadays, with the officially announced course of Ukraine to join NATO, these both tanks can present interest and for the Ukrainian army. As they not only correspond to the NATO standards but preserve traditional for SOE KMDB developments - low weight and small dimensions. In addition to other advantages it will enable to reduce the logistics expenses, maintain transport infrastructure, which will greatly reduce overall cost for transition to new equipment.
Besides, these tanks can be transported by railroad and cargo aircraft, that makes them attractive for peacemaking missions.
Sergyi Wey
27.10.2005



www.army-guide.com
Share...





Problems of Russian Vacuum APFSDS-T projectile
25.01.2019
Bumar Labedy represents the PT-17 MBT on the MSPO 2017
07.09.2017
Representatives of the Iraqi Ministry of Defence Have Accepted Another Batch of BTR-4 Armoured Personnel Carriers
08.02.2013
BTR-4E: Ukraine Takes Leading Positions in Modern Light Armor Vehicles Market
25.07.2012
Kharkiv Morozov Machine Building Design Bureau - KMDB
Discuss