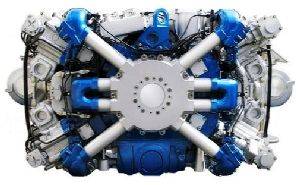 Chelyabinsk Tractor Plant - URALTRAK (part of the NPK Uralvagonzavod) is delaying the delivery of V-46 and V-84 diesel engines to customers fulfilling the State Defense Order. This applies to both the enterprises that are part of the structure of Uralvagonzavod and other manufacturers of military vehicles. Mil.Press Voennoye correspondent was informed about this by sources from two companies that use these engines as part of their own products, and a source from an enterprise engaged in diesel engine repair confirmed.
Delay in deliveries is associated with negative results of periodic diesel tests. Repeated tests, according to the sources, were also unsuccessful. As a result, acceptance of the engines was suspended.
"Engines are in short supply at the enterprises of Uralvagonzavod, Almaz-Antey, and the Kalashnikov —oncern (the —oncern includes the Mytishchi machine-building plant, which produces tracked vehicles for the integration of special equipment, which use V-46-2S1M or V- 84DT multi-fuel heavy engines - ed.) ", - said one of the sources of Mil.Press Voennoye. According to a source of Mil.Press Voennoye, heads of enterprises has trubles due to the current situation are preparing a meeting at the Ministry of Industry and Trade. Its participants will try to strategize and coordinate their actions to solve the problem.
The press service of "ChTZ-URALTRAK" could not promptly respond to the official request of the editorial board about the reasons for the delay and the timing of the resumption of supplies.
"ChTZ-URALTRAK" is currently has financial trubles. According to the 74.RU portal, 22 creditors demand the bankruptcy of the plant.
74.RU quotes the comments of the company's representatives: "The plant is implementing a new development program, which provides for an increase in the economic efficiency of the enterprise, labor productivity and cost reduction. The State Defense Order is being implemented. Research and Development work in the field of engine for use in armored vehicles successfully carried out, completed development of a new forced engine for use in armored vehicles. An engine is being developed for the newest KURGANETS medium tracked platform. ChTZ-URALTRAK was engaged in the development of a future 2V-12-3A engine (1500 hp) for the unified ARMATA platform (T-14 MBT, T-15 IFV and T-16 repair and recovery vehicle) and the 2V- 06-3V (750 hp) for the KURGANETS-25 platform (B-11 IFV and B-10 ACV).
At the ARMY-2019 International Military-Technical Forum, within the framework of one of the round tables, an employee of the BT 3 Scientific Research Center of the Central Research Institute of the Ministry of Defense of the Russian Federation said that "an analysis of the characteristics and design of the ChTZ-URALTRAK engines shows that 2¬-12-3ņ and 2¬- 06-3V are inferior to their foreign counterparts in terms of fuel efficiency, resource, oil consumption, specific heat transfer and other important indicators".