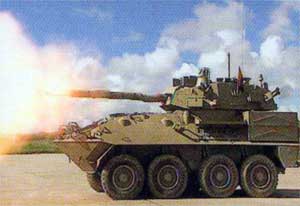 The Belgian Group Cockerill Maintenance & Ingenierie (CMI) is very glad to hear the official notification of the contract signed between the Belgian National Defence and the Swiss company Mowag, contract based on the supply of infantry armoured vehicles.
"We are subcontractors of the Swiss company for the supply of LCTS90 turret/gun systems which will equip 18 of the 138 vehicles of the Belgian program's first batch. This good news, already foreshadowed since the green light was announced by the Council of Ministers, end of January, is now an assurance", has commented Bernard Serin, CEO of the CMI Group.
CMI Defence is business branch specialised in gun systems for Light Armoured Vehicles (LAV). Both designer and integrator of turrets, CMI Defence is the word leader in 90mm gun manufacturing since 1974. The turrets will be designed in CMI Defence facilities, near Liege. They will be assembled in the workshops situated nearby the headquarters of the CMI Group. EMI, a subsidiary located in the South of Belgium, will manufacture the turret's hulls and will assemble 120 units of the Mowag vehicles.
The delivery of the vehicles equipped with the CMI turrets to the Belgian Government will be spread out from 2008 to 2012. The Belgian program foresees the order of 104 supplementary vehicles as well, in two batches. These optional stages have to be notified in 2006 and 2010, for a delivery before 2016. They would include 22 vehicles equipped with the CMI gun systems. "Considering the industrial compensation programs foreseen by Mowag, the business opportunities linked to the order weigh more than 300 millions Euros for the CMI Group during the 10 forthcoming years", emphasises Jean-Francois Levaux, Vice President Sales & Marketing, CMI Group.
Besides the 90mm calibers, CMI Defence has recently developed a 105 mm weapon system (the CT-CV Weapon System), that is to say the biggest airtransportable caliber in the world. CMI Defence range of products includes also multi-use intermediate calibers products. "The 90mm caliber achieves performances roughly equivalent to a classic gun of 105mm, but it allows to reduce the weight of the vehicles and offers less maintenance costs", specifies Bernard Serin.