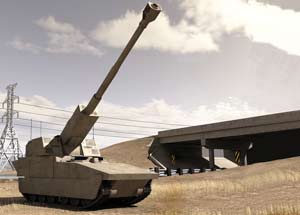 BAE Systems successfully fired the first round from the Future Combat Systems (FCS) Non-Line-of-Sight (NLOS) Cannon Firing Platform.
The Firing Platform is an ultra-lightweight 38-caliber, fully automated 155-mm howitzer featuring a fully automated ammunition handling system integrated onto a tracked chassis. Today's firing event launched an official Firing Platform testing and evaluation program that will run through 2008.
This successful firing is a testament to the excellent work being done by BAE Systems and the NLOS Cannon design and development team, including the Armaments Research and Development Command, Benet Laboratories and Watervliet Arsenal. This dedicated workforce is committed to delivering the NLOS Cannon to the armed forces by 2008 and today's first round demonstrates the company is right on schedule."
BAE Systems will continue single-round firing tests with the Firing Platform during the coming weeks. Those tests will be followed by rate-of-fire testing to demonstrate the effectiveness of the NLOS Cannon's automation system, which will give soldiers the capability to fire a four-round Multiple Round Simultaneous Impact mission with the push of a button.
The NLOS Cannon is the lead Manned Ground Vehicle of the Boeing/Science Applications International Corporation (SAIC) led FCS Program and the 155-mm Firing Platform is the first step toward development of complete NLOS Cannon pre-production units scheduled to be delivered to the Army by the end of 2008.