Barco to provide rugged display workstations for BAE Systems' NLOS-Cannon early prototypes
Category: Future Technologies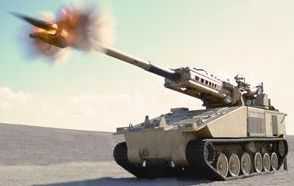 Visualization specialist Barco has been selected by BAE Systems Land & Armaments LP, Armament Systems Division, for the Non-Line-of-Sight Cannon (NLOS-Cannon) early prototypes. Through its dedicated subsidiary for mission-critical applications Barco Federal Systems, the company will provide rugged display workstations. The NLOS-Cannon early prototypes are 155mm, self-propelled cannon systems developed for the US Army's Future Combat Systems program. Each system will be equipped with 4 display workstations configured in a 2 man crew station.
Barco's state-of-the-art 17-inch displays and computers were chosen by BAE Systems because of their technological innovation. The rugged displays incorporate the latest backlight solution using LED technology, while the computers integrate the latest in desktop graphics boards within a small and sealed package. The displays and computers are then mounted together to form a small, easy-to-install workstation core.
The selected 17-inch display was in design prior to this program selection as part of Barco's efforts to invest in the US Army's Future Combat Systems program. The company are working hard to design products that fully meet the needs of the Future Combat Systems program and are fully committed to internal development to show the capabilities and willingness to support the Integrated Product Teams and the US Army.
The new display and processing product designed for this program is an extension of Barco's existing Modular Rugged Display System (MRDS) product range, providing the next generation of powerful embedded computing with high-performance display capabilities within a single product platform.
The NLOS-Cannon early prototypes are the lead systems for the Boeing/SAIC led Future Combat Systems Manned Ground Vehicle program and will be delivered for developmental testing beginning in 2008.
Sergyi Way
09.11.2006



www.army-guide.com
BAE Systemsí Non-Line-Of-Sight Cannon Fires 1,000th Round
15.02.2008
BAE Systems Fires First Round from Nlos Mortar Firing Platform
16.04.2007
BAE Systems Unveils Future Mortar Firing Platform
05.03.2007
BAE Systems First Round from NLOS Cannon Firing Platform
02.11.2006