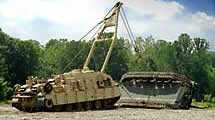 Hercules Recovery Vehicle
BAE Systems has been awarded a $7 million contract modification from the U.S. Army TACOM Life Cycle Management Command to remanufacture and upgrade four M88A2 HERCULES recovery vehicles.
The M88A2 HERCULES has proven in combat that its ability to recover 70-ton tanks is invaluable to the Army's Heavy Brigade Combat Teams.
Work will be completed at the company's York, Pennsylvania facility by January 2010.
The modification is part of a contract award received last November worth $251 million to remanufacture 113 vehicles. The $251 million contract has since been modified in January 2007 to include four additional vehicles at $7 million, and when combined with the current modification brings the total value to $265 million.
HERCULES has provided unmatched capabilities during Operation Iraqi Freedom. To date 157 HERCULES vehicles have been fielded against a total U.S. Army requirement of over 595 vehicles. Sixty have been fielded to the U.S. Marine Corps, which has converted its total fleet to the M88A2 configuration, plus an additional 114 vehicles to allied nations.
HERCULES provides unparalleled capability for recovering today's 70-ton combat vehicles and answers the need for cost-effective, self-supporting heavy recovery performance. Key upgrades from the M88A1 include improved power-assisted braking, improved steering, improved electrical system and increased engine horsepower, providing soldiers and Marines with 25 percent more towing muscle, 40 percent more lifting strength and 55 percent more winching power in meeting any mission requirement.