General Dynamics UK Selects Green Hills Software for British Army's Specialist Vehicle Programme
Category: Future Technologies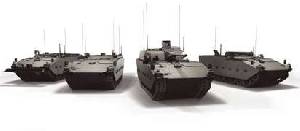 NUREMBERG, GERMANY -- Green Hills Software, the largest independent vendor of embedded software solutions, has announced that its INTEGRITY® real-time operating system (RTOS) has been chosen by General Dynamics UK as the operating system software for all the mission-critical computers of the Scout Specialist Vehicles (SV) programme, which General Dynamics UK is developing during the demonstration phase of the programme.
Green Hills Software's MULTI® integrated development environment (IDE) has also been selected to build the application code that runs on top of the INTEGRITY operating system on all the computer subsystems in the vehicle.
Scout SV is a new generation military armored vehicle family that comprises several variants built on a common base platform. Initial variants include the Scout reconnaissance vehicle, Recce Armored Personnel Carrier, repair vehicle, and recovery vehicle. All will share an open electronic architecture, making the Scout SV fleet easier to maintain, simplifying user training and playing a key role in lowering costs throughout the planned 30-year life of the vehicles.
The four main electronic subsystems on Scout SV will use Intel Core i5 and Core i7 multicore architectures running Green Hills Software's INTEGRITY RTOS and each has its own display. These are used by the driver, commander and gunner; and there is one additional terminal. The subsystems support all critical services including driving controls, defensive aids, navigation tools, 'friend or foe' recognition and visual displays. The latter can receive live feeds from up to seven video cameras and real-time performance is essential in order to avoid motion sickness that can result from inconsistencies between visually and physically perceived information.
Christopher Smith, vice president of marketing, Green Hills Software, said, "INTEGRITY is field-proven in the most demanding military and avionics applications on land, sea and air. We are very pleased to be involved in the SV program, which will afford the highest level of protection and support to British soldiers and, potentially, to those of other allied forces around the world."
The demonstration phase of the project will see the development of seven prototypes for the Scout reconnaissance vehicle and supporting variants.
Sergyi Way
02.03.2012



www.army-guide.com
Share...





£2.8bn armoured vehicle contract secured for British Army
11.11.2019
General Dynamics Land Systems–UK showcases adaptable Foxhound vehicle at DSEI 2019
23.09.2019
General Dynamics UK selected for Army Warfighting Experiment 2019
23.09.2019
MBDA SHOWCASES TANK DESTROYER VEHICLE WITH PGZ AT MSPO 2019
12.09.2019
British Aerospace Defence Ltd, Royal Ordnance Division
British Aerospace Systems & Equipment
British Aerospace Defence, Royal Ordnance Guns & Vehicles
British Aerospace Defence, Rocket Motors Division
Discuss