Contracts
Arlington, VA, July 11, 2005 — CACI International Inc (NYSE:CAI) announced today that it has been awarded a task order of an estimated $11 million value if all options are exercised to continue work on the Defense Personnel Records Image Retrieval System (DPRIS) initiative for the Department of Defense (DoD) Office of the Undersecretary of Defense for Personnel and Readiness.
---
15.07.2005 Visits - 5789 Posts - 0
Defence Industry

ARLINGTON Va. -- Metal Storm Limited today released information regarding a successful firing of the Area Denial Weapon System (ADWS) Capability Demonstrator which was undertaken at the Port Wakefield Proof and Experimental Range near Adelaide, Australia.
---
14.07.2005 Visits - 7034 Posts - 0
Defence Industry
BAE Systems has been down-selected as preferred supplier for the first increment of the FALCON information infrastructure programme.
---
09.07.2005 Visits - 4072 Posts - 0
Army
Alexandria, VA -- Radian Inc, an Engineered Support Services Inc. (ESSI) company, has been chosen by the North Atlantic Treaty Organization (NATO) Supreme Allied Command-Transformation to perform a study of new concepts and existing technologies for the design, construction, and maintenance of NATO base camps. These base camps would be used by a deployed joint task force and the headquarters of the NATO Response Force. The study is worth $170,000 and will last six months.
---
09.07.2005 Visits - 6258 Posts - 0
Army
The Howard Government has approved a $207 million redevelopment of Special Forces facilities at Holsworthy Barracks to support the relocation of Special Operations Command units to the Sydney Defence base.
---
09.07.2005 Visits - 6415 Posts - 0
Defence Industry
TAUNTON, Mass. -- General Dynamics C4 Systems, a business unit of General Dynamics, and Lockheed Martin today announced that they had held the U.S. Army`s preliminary design review (PDR) on the Warfighter Information Network-Tactical (WIN-T) program, the Army`s next-generation battlefield communications network.
---
09.07.2005 Visits - 2687 Posts - 0
Defence Industry

SEVILLE, Spain --- General Dynamics Santa Barbara Sistemas (GD SBS) presented last June 17th 2004 in its Seville factory the first Leopardo 2E Main Battle Tank (MBT) for the Spanish Army in an official ceremony chaired by His Majesty Juan Carlos I, the King of Spain, with the presence of more than one hundred civil and military authorities as well as executives of the defense sector.
---
06.07.2005 Visits - 11979 Posts - 0
Contracts

Germany`s Bundeswehr has awarded the Rheinmetall Group with a tank ammunition contract worth approximately EUR 30 million. The ammunition is designed especially for the Leopard 2 main battle tank (MBT).
---
05.07.2005 Visits - 4213 Posts - 0
Defence Industry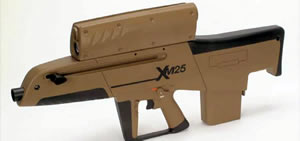 ATK'S Advanced Weapon Design Gives the Warfighter Unmatched Precision and Lethality. XM25 Ideal for Urban Combat Environments. Minneapolis – Alliant Techsystems (and the U.S. Army's Project Manager-Soldier Weapons successfully demonstrated the XM25 advanced airbursting weapon system with developmental ammunition at the International Infantry & Joint Services Small Arms Systems Annual Symposium on May 19, 2005.
---
04.07.2005 Visits - 4182 Posts - 0
Contracts
ST. LOUIS -- Engineered Support Systems, Inc. has received a $7.2 million order from the U.S. Army Tank- automotive and Armaments Command (TACOM) in Warren, Michigan, for system technical support and logistics services for the Knight Precision Targeting System. Engineered Support's wholly-owned subsidiary Systems & Electronics Inc. (SEI) will provide the services in their St. Louis facility.
---
04.07.2005 Visits - 4375 Posts - 0
Contracts

HOUSTON, -- Stewart & Stevenson Services, Inc. announced that Stewart & Stevenson Tactical Vehicle Systems, LP (TVS) received contract modifications from the U.S. Army valued at approximately $219 million. These modifications are funded by the 2005 U.S. Congress Supplemental Spending Bill and represent the second award to TVS under that bill in recent weeks.
---
04.07.2005 Visits - 5331 Posts - 0
Contracts
Arlington, VA — CACI International Inc announced that it has been awarded a four-year prime contract, valued at $25 million if all options are exercised, to support the Total Ammunition Management Information System (TAMIS) for Headquarters, Department of the Army in Washington, D.C. Awarded by the U.S. General Services Administration through the Millennia Lite Functional Area 3 vehicle, the contract includes one base year and three option years.
---
04.07.2005 Visits - 4918 Posts - 0
Defence Industry

Tenix Defence has teamed up with Swedish company Bofors Defence AB to supply the Australian Defence Force with a new artillery system. The ADF is seeking tenders under the Land 17 Artillery Replacement Project for an indirect fire support system to succeed its 105mm Hamel Howitzer and 155mm M198 Howitzer fleet from 2008-10.
---
04.07.2005 Visits - 11448 Posts - 0
Defence Industry
The French defence procurement agency (DGA) has appointed Thales as prime contractor for the Melchior programme, which will provide the French armed forces with a new-generation high-frequency (HF) tactical transit and access communication system. The contract, worth 252 million euros, calls for development and production of the system and subsequent through-life support.
---
03.07.2005 Visits - 3936 Posts - 0
Training And Simulators
ORLANDO, FL, June 27, 2005 -- The U.S. Army has awarded Lockheed Martin a 12-month service contract valued at $4.2 million for a suite of four Virtual Combat Convoy Trainers (VCCT). The trainer is used to train troops for convoy operations in hostile environments, and will be built at Lockheed Martin Simulation, Training & Support in Orlando.
---
02.07.2005 Visits - 6781 Posts - 0