Awesome firepower and agility puts Jackal in class of its own
Category: Army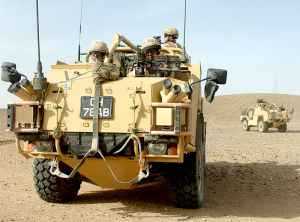 The first of the UK military's tough new Jackal 4x4 patrol vehicles have been put through their paces in Helmand province, southern Afghanistan.
The introduction into service of up to 100 of the new vehicles will mark a significant improvement on the capabilities of the current weapons platform, the Land Rover-based Weapons Mounted Installation Kit (WMIK), for UK forces on the front line.
Offering increased mobility, protection and agility, Jackal's 5.9 litre engine is capable of maintaining off-road speeds of up to 80km/h and can reach a top speed of 130km/h. The vehicle's extended range and ability to operate across a variety of terrain in extreme environments give it a huge advantage over its WMIK predecessor.
A unique airbag suspension system allows a smooth ride over the roughest terrain and provides a more stable firing platform while the vehicle is in motion.
The revolutionary system can also raise the seven-tonne beast by more than a metre, allowing the vehicle to clear large obstacles or its occupants to gain a better view of the field of operations.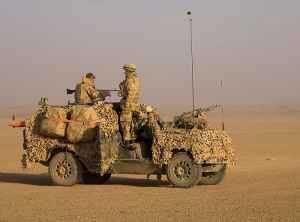 But this vehicle, procured in just seven months, was originally designed as a purpose-built weapons platform, and that is where Jackal comes into its own.
Capable of carrying combinations of .50 calibre (12.7mm) machine guns, Heckler & Koch 40mm grenade launchers and General Purpose Machine Guns, Jackal's agility, range and awesome firepower will offer front line commanders greater flexibility in the conduct of ground operations.
Major Tom Wood, part of the team that produced the vehicle, said:
"I don't think we, as an Army, have ever bought such an incredible piece of kit before. It packs as much power as some of our tanks!"
Although incorporating a fully-integrated protection system and reinforced armour plating, Jackal's main defences are its mobility and agility. This makes Jackal perfectly suited to the operational terrain of southern Afghanistan, where speed and manoeuvrability are essential.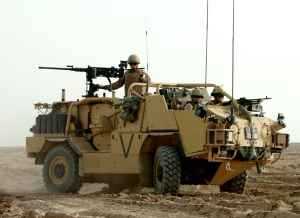 A number of the 200 vehicles procured will form part of the training fleet allowing troops to gain experience driving and maintaining the vehicles before they deploy on operations. Army driver Warrant Officer Nick Hartley has completed the training:
"It's awesome," he said. "It does exactly what it says on the tin! Troops will be able to go deep into Taliban territory and hunt them down. There's no hiding place from this vehicle. It can go anywhere."
Jackal facts
Height: 1.97m (not including weapon system)
Engine: 5.9 litre Cummins ISBe Euro3
Jackal is ready to receive the British Armed Forces' new BOWMAN communications equipment.
UK MOD
09.04.2008

Share...





General Dynamics Land Systems–UK showcases adaptable Foxhound vehicle at DSEI 2019
23.09.2019
Supacat delivers the first production HMT Extenda Vehicle to Norway
21.06.2018
Supacat launches HMT Light Weight Recovery in defence industry first for Light Weight (Air Portable) Recovery vehicle programme
12.09.2017
Supacat unveils LRV600 at DSEi Demonstrating LRV flexibility and increased capability in 6×6 configuration
11.09.2017
HMT 400 Jackal (Patrol Vehicle)
Jackal (Robot, Unmanned Vehicle)
Discuss