Turkish defense industry conquers Asia
Category: Contracts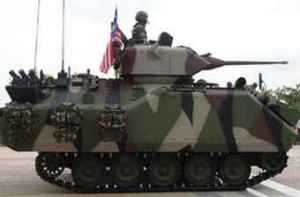 Thirty-seven defense companies from Turkey will participate in the 11th Defence Services Asia Exhibition and Conference (DSA 2008), which began yesterday in Kuala Lumpur, where more than 600 companies from 50 countries are expected to participate.
This year Turkish companies are expected to be the center of attention in Kuala Lumpur. FNSS Savunma Sistemleri (Defense Systems), one of the main Turkish companies at the event, has already signed armored vehicle contracts with Malaysia during DSA 2008 at the Putra World Trade Centre.
According to the contract, FNSS will provide Malaysia with 48 Adnan armored combat vehicles, worth $72 million in total. FNSS had previously sold 211 Adnan infantry fighting vehicles to Malaysia for $300 million, and 65 of these vehicles will be assembled in Malaysia.
Adnans are equipped with firing ports, which allow infantrymen to fire their weapons from within the vehicle. They also possess passive night vision equipment produced by Turkish defense contractor Aselsan.
Malaysian Sultan Mizan Zainal Abidin visited Turkish defense industry companies at the fair and was briefed by head of the Undersecretariat for the Defense Industry (SSM) Murad Bayar.
Today's Zaman
22.04.2008
www.todayszaman.com
Share...





AV-8 AENBCRV Vehicle Prepares to Enter Malaysian Army Inventory
29.04.2019
FNSS Reveals PARS III 8x8 Engineering Vehicle
29.04.2019
The Indonesian PT Pindad medium tank tested by mine explosion
13.07.2018
FNSS Showcases its New Generation Tracked & Wheeled Armored Vehicles at Eurosatory 2018
12.06.2018
ACV APC / Adnan (Tracked armoured personnel carrier)
AIFV/ACV-300/Adnan (Infantry fighting vehicle)
Discuss