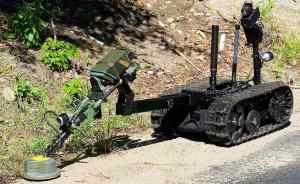 QinetiQ has extended its TALON family of robots, 2,500 of which have already been deployed in Iraq and Afghanistan, to ensure it continues to meet the ever-changing demands of detecting and clearing mines, unexploded ordnance and dangerous improvised explosive devices (IEDs) from a safe distance.
Detection and clearance of mines is of particular importance in Afghanistan, where large numbers of landmines litter the countryside as a result of almost continuous fighting since the late 1970s injuring 200,000 people according to United Nations estimates. The new TALON IV Engineer robot is particularly well suited to operations in the region with a longer, stronger reach, stronger grasp, and the ability to right itself.
"Our TALON IV Engineer robot, with its extra strength and reach expands the capabilities of troops to remotely clear routes, minefields or other hazardous areas. And as with other TALON models it gives them the ability to see inside and around vehicles and other barriers, helping increase their overall safety," explained Dr William Ribich, president of QinetiQ's US Technology Solutions Group.
"TALON robots are extensively used by US forces and have already helped save thousands of explosive ordnance disposal and combat engineers from injury or possible death in the performance of their mission to clear mines and disarm IEDs. This new model delivers greater flexibility and means they can safely detect and deal with a greater variety of threats from a distance."
Key features of the TALON IV Engineer robot include a full-swivel manipulator arm combined with a seven-foot reach. This means a portable mine detector can be taken out of a soldier's hands and mounted on the robot, so the search can be conducted remotely. Because the arm is longer, stronger and able to swivel, the robot can now also be used to remotely search inside bins, in higher vehicle cabs and flatbeds plus behind guard rails or other obstacles. The arm is also capable of lifting 65 pounds (30 kilograms), which means soldiers can clear heavy debris off IEDs remotely too.