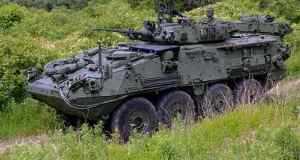 LONDON, Ontario –- The U.S. Army TACOM Life Cycle Management Command, in support of the U.S. Army Security Assistance Command (USASAC), has awarded a USD$2.2 billion contract to General Dynamics Land Systems-Canada for 724 Light Armored Vehicles (LAV) for a Foreign Military Sale (FMS).
Vehicle deliveries will begin in April 2011. General Dynamics Land Systems, the Canadian company's parent corporation, is a business unit of General Dynamics.
The contract was signed through the Canadian Commercial Corporation, a Crown Agency of the Canadian Government.
Dr. Sridhar Sridharan, senior vice-president of General Dynamics Land Systems-Canada, said, "We are pleased to be working once again with TACOM and USASAC in support of their Foreign Military Sales program. This contract now allows us to immediately start work on variant design and production readiness. We look forward to reaching the manufacturing portion of this contract which will help us bring stability to our production workforce."
Vehicles provided under this contract will be the LAV II version – a 300 horsepower 8x8 vehicle with a gross vehicle weight of up to 32,000 lbs (14,500 kg). The vehicles will be produced in 10 different variants.
General Dynamics Land Systems – Canada, located in London, Ontario, Canada, is a business unit of General Dynamics Land Systems of Sterling Heights, Michigan. For over 30 years, more than 1900 highly skilled technical employees have designed, manufactured, delivered and supported to global customers a unique family of light armoured vehicles (LAV). More information on the company is available at www.gdlscanada.com.
General Dynamics, headquartered in Falls Church, Va., employs approximately 92,300 people worldwide. The company is a market leader in business aviation; land and expeditionary combat systems, armaments and munitions; shipbuilding and marine systems; and information systems and technologies. More information about General Dynamics is available online at www.generaldynamics.com.