SISU 8x8 Military Truck on tour in Norway
Category: Defence Industry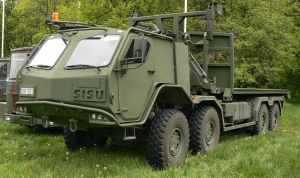 Supplier of protected Military Vehicles, Sisu Defence Oy, has presented an armoured SISU 8x8 Military Truck, loaded with Kongsberg Defence and Aerospace AS`s NASAMS launcher, at ďTransportmessaĒ -exhibition in Gardemoen, Norway, on 11.-13.6.2010.
At the exhibition the SISU 8x8 truck presented the highest protection level and mobility, thus raising well earned interest among the visitors at Norwegian Sisu importerís, Elverum Maskin AS, stand.
In connection with the exhibition at Gardemoen, the SISU 8x8 truck made some 4000 kms journey within Northern hemisphere. On the route the truck visited Lofoten isles to attend an annual Live Firing Exercise of NASAMS, arranged by Kongsberg Defence and Aerospace AS together with the Royal Norwegian Air Forces. The Live Firing event took itís place at Andøya Test Center in Nordmela on June 9th, leaving the truck just one day in between to be driven down to Transportmessa over a distance of more than 1500 kms.
On the tour the SISU 8x8 off-road Military Truck again showed itís skills to manage long distances rapidly also on paved roads, as well as carry loads reliably in varying conditions.
SISU
16.06.2010

Rheinmetall MAN Survivor R special protected vehicle on show at GPEC 2020 international security exhibition in Frankfurt/Main
24.02.2020
BAE Systems` CV90 increases lethality by testing SPIKE LR anti-tank guided missile
14.01.2020
Oshkosh FMTV A2 Makes Debut at Ausa 2018, Multiple JLTVS Command the Floor
14.10.2018
Kongsberg and Milrem Robotics Showcase a Robotic Antitank and HMG System at AUSA
14.10.2018
Monch, Office for Sweden / Norway
Drakensberg Truck Manufacturers - DTM
Volvo Truck Corporation Powertrain Division Engine
Volvo Truck en Bus Nederland B.V.
Volvo Truck & Bus (Thailand) Co Ltd
International Truck and Engine Corporation
International Truck and Engine Corporation