Supacat to continue SPV400 vehicle development
Category: Defence Industry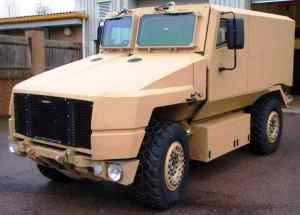 Supacat is continuing development of its all-new, all British Supacat SPV400 light protected patrol vehicle to meet international demand for this new class of vehicle in military and non-military markets.
The SPV400 is one of only two vehicles from an original field of 30 vehicle designs, which succeeded in being taken forward to the invitation to tender stage to meet the UK Ministry of Defence's demanding requirements for its new Light Protected Patrol Vehicle (LPPV), despite not being selected as preferred bidder.
"We are very disappointed by the decision. The SPV400 is a world class vehicle. Its development in such a short period of time is a huge achievement for the team", said Nick Ames, Managing Director, Supacat.
In addition to the interest from other armed forces, we perceive that NGOs and other civilian organisations operating in dangerous areas would benefit from the high levels of armour protection and off road mobility offered by the SPV400. Therefore we will be continuing to pursue international commercial opportunities for this world-leading vehicle technology", Supacat is an innovative design house and world leader in high mobility vehicles serving customers in the military and civil sectors. It designed the acclaimed Jackal and Coyote vehicles currently in service with British Forces in Afghanistan and other armed forces and a civil variant has been chosen as the support vehicle by Bloodhound SCC in its bid for the World Land Speed Record. Supacat is also developing a unique lifeboat launch and recovery vehicle for RNLI and providing specialist protected transit vehicles for the Oil and Gas sector.
Supacat
27.09.2010

Supacat, Rheinmetall and SCISYS partnership showcases new High Mobility Integrated Fires Capability
12.09.2019
UK company pioneers autonomous hybrid vehicle for extreme off road operations
12.09.2019
Supacat delivers the first production HMT Extenda Vehicle to Norway
21.06.2018
Rheinmetall set to supply the Australian Defence Force with over 200 Boxer wheeled armoured reconnaissance vehicles
18.03.2018