BAE Systems awarded $250 million contract for Bradley conversion kits
Category: Defence Industry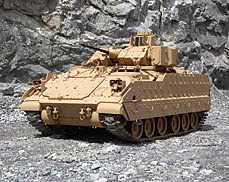 YORK, Pennsylvania –- BAE Systems was awarded a contract for $250 million to purchase long-lead items for 247 Bradley Operation Desert Storm Situational Awareness (ODS SA) vehicle conversion kits under a contract from the U.S. Army TACOM Life Cycle Management Command.
Under this contract, BAE Systems will procure long-lead items for the conversion of 202 Bradley ODS vehicles to the Bradley ODS SA configuration and an additional 45 kits for future vehicle conversion requirements. The company will use the acquired items to upgrade the vehicles to have improved situational awareness ability, which is one example of BAE Systems' robust Readiness and Sustainment capabilities in supporting the customers' requirements.
"The procurement of these items will help us to provide critical ongoing upgrade and remanufacturing work, while creating and integrating advanced technological enhancements that make Bradley one of the most survivable vehicles in theater," said Joe McCarthy, vice president and general manager of the Heavy Brigade Combat Team for BAE Systems.
The Bradley ODS SA vehicle features the latest digitized electronics for optimum situational awareness, network connectivity and communication within the Heavy Brigade Combat Team. Bradley ODS SA's proven durability and commonality of design reduces the logistics burden, while enhancing battlefield performance to meet a variety of mission requirements.
The contract for long-lead items has been awarded in advance of the ODS-SA vehicle conversions and conversion kits production effort anticipated in April 2011.
The work will be performed at the BAE Systems operations in York, Pennsylvania and is anticipated to be completed in September 2012.
Bradley Combat Systems continue to provide outstanding survivability, mobility and lethality to U.S. soldiers in various urban combat situations. The Bradley fulfills five critical mission roles – infantry fighting vehicle, cavalry fighting vehicle, fire support vehicle, command vehicles and engineer squad vehicle – for the U.S. Army's Heavy Brigade Combat Teams.
BAE Systems designs, manufactures and supports Bradley Combat Systems through its U.S. Combat Systems business. U.S. Combat Systems is a modern, efficient, full-spectrum developer, integrator and supplier of survivable, lethal ground and naval combat platforms. U.S. Combat Systems is also a main supplier to the U.S. Army's Heavy Brigade Combat Team, an integral developer of mine protected and future combat vehicles and top producer of naval guns and missile launchers.
BAE Systems
02.12.2010

Share...





BAE Systems` CV90 increases lethality by testing SPIKE LR anti-tank guided missile
14.01.2020
U.S. Marine Corps orders more Amphibious Combat Vehicles
11.11.2019
RAVEN Countermeasure System protects vehicles from missile threats
15.10.2019
BAE Systems unveils Robotic Technology Demonstrator Vehicle at AUSA
15.10.2019
BAE Systems Land Systems Hagglunds AB
BAE SYSTEMS Advanced Technology Centre
BAE SYSTEMS Customer Solutions & Support Land & Sea
BAE SYSTEMS Operational Training
BAE SYSTEMS RO Defence Small Arms Ammunition Division
BAE Systems North America, Land & Information Systems
Bradley M2/M3 (Infantry fighting vehicle)
Bradley M2A3/M3A3 (Infantry fighting vehicle)
Bradley M6 Linebacker (Anti-aircraft system)
Bradley M2A3 (Modernization of the vehicle)
Bradley M7 (Observation Post Vehicle)
Bradley M2A1/M3A1 (Infantry fighting vehicle)
Bradley M2A2/M3A2 (Infantry fighting vehicle)
Bradley M2A3 IBAS (Modernization of the vehicle)
Bradley AMTV (Ambulance vehicle)
Bradley AMEV (Ambulance vehicle)
Bradley BMV (Self-propelled mortar)
Discuss