BAE Systems to Modernize Bradley Vehicles through $47 Million Contract
Category: Contracts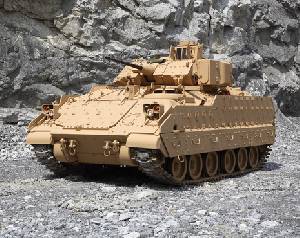 YORK, Pennsylvania –- BAE Systems recently received a $47 million contract modification to enhance 95 of its most survivable vehicle – Bradley – by replacing old and damaged components with updated equipment and technology.
"As the mission and combat environments for our soldiers are changing, we are working to provide a modernized Bradley Fighting Vehicle that continues to perform at an optimal level, providing increased survivability and enhanced situational awareness components," said Joe McCarthy, vice president and general manager of the Heavy Brigade Combat Team Systems for BAE Systems.
Under this contract, the Bradley vehicles will be reset and converted from the Bradley Operation Desert Storm (ODS) model to the Bradley Operation Desert Storm Situational Awareness (ODS SA) configuration. The Bradley ODS SA vehicle features the latest digitized electronics for optimum situational awareness, network connectivity and communication within the Heavy Brigade Combat Team. The vehicle's proven durability and commonality of design reduces logistic burden, while enhancing battlefield performance to meet a variety of mission requirements in various combat situations.
The modernization process includes replacing obsolete equipment with updated components, restoring the vehicle to pre-combat condition. Work provided through this contract is supported by the company's robust readiness and sustainment business.
The award amount of $47 million is the first tasking under a not-to-exceed total contract amount of $94 million. Additional orders for the balance of the contract value may be awarded in the future. The contract was awarded by the U.S. Army TACOM Life Cycle Management.
Work will be performed by the company's existing workforce at its facilities in Fayette and York, Pennsylvania, as well as the Red River Army Depot in Texarkana, Texas. Vehicle deliveries will begin in March 2012 and will end in June 2012.
Bradley Fighting Vehicles continue to provide outstanding survivability, mobility and lethality to U.S. soldiers in various combat situations. The Bradley fulfills five critical mission roles - infantry fighting vehicle, cavalry fighting vehicle, fire support vehicle, command vehicle and engineer squad vehicle – for the U.S. Army's Heavy Brigade Combat Team.
BAE Systems designs, manufactures and supports Bradley Fighting Vehicles through its U.S. Combat Systems business. U.S. Combat Systems is a modern, efficient, full-spectrum developer, integrator and supplier of survivable, lethal ground and naval combat platforms. U.S. Combat Systems is also a main supplier of the U.S. Army's Heavy Brigade Combat Team, an integral developer of mine protected and future combat vehicles and top producer of naval guns and missile launchers.
BAE Systems
03.02.2011

Share...





BAE Systems` CV90 increases lethality by testing SPIKE LR anti-tank guided missile
14.01.2020
U.S. Marine Corps orders more Amphibious Combat Vehicles
11.11.2019
RAVEN Countermeasure System protects vehicles from missile threats
15.10.2019
BAE Systems unveils Robotic Technology Demonstrator Vehicle at AUSA
15.10.2019
BAE Systems Land Systems Hagglunds AB
Singapore Technologies Engineering Ltd - ST Engineering
JSC Omsk Transport Engineering Plant - Omsktransmash
Carnegie Mellon's National Robotics Engineering Center - NREC
General Kinetics Engineering Corp - GK
SE Kharkiv Reseach and Development Institute of Mashine Engineering
BDX Beherman Demoen Engineering
Abu Zaabal Engineering Industries Co
IDEX Foreign Trading, Contracting and Engineering Co Ltd
Singapore Ordnance Engineering Pte Ltd (SOE)
Singapore Automotive Engineering Pte Limited
Ordnance Development and Engineering Company of Singapore
Singapore Technologies Engineering (Europe) Ltd
Singapore Technologies Engineering (Middle East) Ltd
DEW ENGINEERING AND DEVELOPMENT LIMITED
BAE SYSTEMS Advanced Technology Centre
BAE SYSTEMS Customer Solutions & Support Land & Sea
BAE SYSTEMS Operational Training
BAE SYSTEMS RO Defence Small Arms Ammunition Division
BAE Systems North America, Land & Information Systems
Ametekh Reseach and Engineering Complex of Technology Automation and Mechanizati
Precision Mechanical Engineering Central Research Institute - TsNIITochMash
Precision Engineering Design Bureau
Electrothermal Engineering Ltd.
Hydromechanical Engineering Ltd.
Larsen & Toubro Limited, Heavy Engineering Division - L&T
NUDELMAN PRECISION ENGINEERING DESIGN BUREAU (KB Tochmash)
PUBLIC CORPORATION SPECIAL RADIO EQUIPMENT ENGINEERING & DESIGN BUREAU(SKTBR)
Metal Engineering Works (Pvt.) Ltd.
Central Design Bureau of Apparatus Engineering JSC - CDBAE
Advanced Technologies & Engineering (ATE)
Multidrive Technology (MDT Engineering Pty Ltd)
Tiltan System Engineering Ltd.
Teledyne Brown Engineering, Inc. - TBE
U.S. Army Armament Research, Development and Engineering Center (ARDEC)
Triple M Engineering & Contracting
Vehicle Engineering c.g.d. S.r.l.
Industrial Laser Electronics and Engineering AG - I.L.E.E.
Hydromechanical Engineering Ltd. - HEC
Kazakhstan Paramount Engineering LLP
Robotics Engineering Excellence - RE2 Robotics
MAGNA POWERTRAIN, Engineering Center Steyr GmbH & CoKG
Escribano Mechanical and Engineering S.L.
Digital Concepts Engineering Ltd
Kazakhstan Aselsan Engineering LLP - KAE
JSC Kazakhstan Engineering National Company - KE
Bradley M2/M3 (Infantry fighting vehicle)
Bradley M2A3/M3A3 (Infantry fighting vehicle)
Bradley M6 Linebacker (Anti-aircraft system)
Bradley M2A3 (Modernization of the vehicle)
Bradley M7 (Observation Post Vehicle)
Bradley M2A1/M3A1 (Infantry fighting vehicle)
Bradley M2A2/M3A2 (Infantry fighting vehicle)
Bradley M2A3 IBAS (Modernization of the vehicle)
Bradley AMTV (Ambulance vehicle)
Bradley AMEV (Ambulance vehicle)
Bradley BMV (Self-propelled mortar)
Discuss