17 BM Bulat tanks shall reinforce combat fleet of Armed Forces of Ukraine
Category: Defence Industry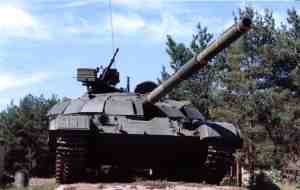 Kharkov, Ukraine – Specialists of SOE KMDB have developed a BM Bulat tank – upgraded T-64. Performance characteristics of the upgraded tank meet the up-to-date global requirements. 17 combat vehicles have been directly manufactured by the State Enterprise "Malyshev Plant" in the framework of state order of the Ministry of Defence of Ukraine.
As it was announced in the press-cutting service of the Ministry of Defence of Ukraine the first batch of upgraded tanks, which will soon reinforce the combat fleet of Armed Forces of Ukraine, was taken over last week by the Deputy Minister of Defence Viacheslav Kredisov from Kharkov tank manufacturers.
According to him, the contract for these works with the State Enterprise "Malyshev Plant" was signed by the military department in summer 2004, and today its conditions have been fulfilled by the both parties.
"Malyshev Plant" General Director Gennady Grytsenko was sure that the state and Ministry of Defence, in particular, despite the present economic difficulties, would significantly activate their cooperation with Kharkov tank manufacturers.
"Within the framework of reforming of the Armed Forces of Ukraine, optimization of their structure and reduction of strength, induction of 17 new tanks will not lead to increase of overall quantity of combat vehicles, but will increase the qualitative performance of the land forces striking power. Simultaneously the process of inactivation from the combat composition of much bigger quantity of obsolete and unfit for active service vehicles is permanently going on", - was said in the Ministry of Defence.
Among the developments of SOE KMDB there is also a new tank Oplot, armored personnel carrier Dozor B, variants of upgrading of equipment up to the NATO standards, modern simulators and other equipment for land forces.
Sergyi Wey
28.07.2005



www.army-guide.com
Share...





Robotic Warfare Systems Will Bring Disruption to the Battlefield, Milrem Robotics' Study Finds
25.04.2019
Problems of Russian Vacuum APFSDS-T projectile
25.01.2019
Bumar Labedy represents the PT-17 MBT on the MSPO 2017
07.09.2017
AM General Secures Additional $57 M In HMMWV Vehicle And Parts Sales
01.03.2016
Ministry of Defence of Ukraine
Central office on military and technical cooperation of MoD of Ukraine
Kharkiv Morozov Machine Building Design Bureau - KMDB
SLOVSEL s.r.o. Ukraine representative
PARALLAKS Ukraine-Russia Joint Scientific Industrial Enterprise
SBA-60K2 Bulat (Tactical vehicle)
Discuss