General Dynamics Successfully Demonstrates Tactical Version of 120mm Roll-Controlled Guided Mortar
Category: Contracts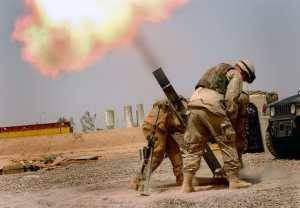 ST. PETERSBURG, Fla. -- General Dynamics Ordnance and Tactical Systems, a business unit of General Dynamics, announced today that it has successfully demonstrated a tactical version of the company's 120mm Roll Control Guided Mortar (RCGM) at Yuma Proving Grounds, Ariz. The testing was conducted under a Cooperative Research and Development Agreement (CRADA) with the U.S. Army Armament Research, Development and Engineering Center (ARDEC), Picatinny Arsenal, N.J.
The 120mm RCGM is a low-cost, guided mortar that provides precision-strike capability using standard M934A1 mortar components, GPS guidance, M734A1 fuze components and patented Roll-Controlled Fix Canard (RCFC) technology.
Live, tactical 120mm RCGM rounds where used in the demonstration and all of the rounds were successfully guided to within 10 meters of their target at ranges of 1,000 to 5,000 meters. The test demonstrated the RCGM capability in height-of-burst, point detonation and delay fuze modes, and demonstrated the rounds' ability to perform at hot, ambient and cold temperatures.
Michael S. Wilson, president of General Dynamics Ordnance and Tactical Systems, said, "These tests fully demonstrate the viability of our system with respect to accuracy, fuze reliability and enhanced lethality for the warfighter. By using existing warheads and fuzing, in concert with our innovative low-cost control and guidance system, we can offer a truly affordable precision mortar round for less than $10,000 per unit.
"This demonstration proves that the General Dynamics low-cost guided mortar is a viable competitive alternative which meets the Army's requirements for affordable precision munitions," Wilson said.
General Dynamics
02.05.2011

KONGSBERG CONCLUDES A $ 54 MILLION CONTRACT FOR THE DELIVERY WEAPON STATIONS TO CANADIAN ARMY
05.06.2020
Germany awards 159 MUSD vehicle contract to GDELS
24.04.2020
BAE Systems` CV90 increases lethality by testing SPIKE LR anti-tank guided missile
14.01.2020
Switzerland awards contract to General Dynamics European Land Systems- Mowag to deliver 100 EAGLE 6x6 reconnaissance vehicles
06.12.2019
General Dynamics Land Systems - GDLS
General Dynamics Ordnance and Tactical Systems
General Dynamics European Land Systems-Mowag GmbH
General Dynamics Santa Barbara Sistemas
General Dynamics Armament Systems
General Dynamics Defence Systems
General Dynamics European Land Systems-Steyr GmbH
General Dynamics Armament and Technical Products (GDATP)
General Dynamics Amphibious Operations - GDAMS
General Dynamics Corp., Advanced Information Systems
General Dynamics Robotic Systems - GDRS
U.S. Army Armament Research, Development and Engineering Center (ARDEC)
General Dynamics Land Systems - GDLS - Canada
General Dynamics European Land Systems - GDELS