KMW presents new DINGO version
Category: Exhibitions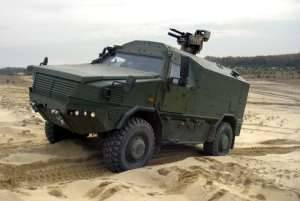 Krauss-Maffei Wegmann (KMW), Europe's market leader for highly portected wheeled and tracked vehicles presented a newly developed and increased power-rated version of the DINGO 2 wheeled vehicle at the opening of the security exhibition DSEi in London today.
With already six nations (Germany, Belgium, the Czech Republic, Luxembourg, Norway and Austria) making use of the DINGO 2 in more than 15 versions, it has proven its worth in numerous international missions of the NATO, EU or United Nations. Especially in the Afghanistan missions, afflicted by terrorist attacks, the DINGO has repeatedly served as a life saver for its crew.
"KMW is known throughout the world for its powerful and highly protected military vehicles. With the new DINGO HD we are consequently continuing our product strategy, offering a product line with a broad variety of vehicles, all at the highest level of protection, to our international clients", said Frank Haun, CEO and President of KMW.
INCREASED PERFORMANCE AND HIGHER PAYLOAD
The new HD-version (Heavy Duty) offers a much higher payload of up to 3 tons, whilst the external dimensions remain the same as all other DINGO 2 vehicles. The gross vehicle weight was increased to 14,5 tons. It is based on a Unimog vehicle chassis with a 225kW, 6-cylinder engine and a fully automatic transmission. Hereby a large number of new and mission-specific versions can be created, whilst maintaining the known international protection concept. The logistical concept of the DINGO 2 ties in perfectly with previously released DINGO versions. The user states can thereby guarantee a continuous and price efficient provisioning for the DINGO vehicle family.
DINGO 2 – THE BEST PROTECTION FOR DANGEROUS MISSIONS
Almost 1000 DINGOs in different versions, ranging from patrol and reconnaissance versions over mobile command posts to ambulance and NBC-reconnaissance versions, are in use with six European nations. The high level of protection has repeatedly proven its worth during numerous terrorist attacks and has always saved the lives of the crew members. The vehicles offer the soldiers the best protection available in the world combined with high mobility. The large payload allows a battle load capacity for patrols of several days duration.
The deployment under extreme climatic conditions is guaranteed through climate control and a protective ventilation system. For self-defence purposes the DINGO is equipped with a remote controlled light weapons station of the type FLW 100 or FLW 200. the vehicle crew is thereby capable of operating the weapons station from within the protected interior. The stabilisation of the FLW allows gunfights even when the vehicle is in movement.
KMW
13.09.2011

Share...





Multimillion-euro order from Hungary
02.10.2019
General Dynamics Land Systems–UK showcases adaptable Foxhound vehicle at DSEI 2019
23.09.2019
Otokar offers solutions with technology transfer and local manufacturing models
13.09.2019
Krauss-Maffei Wegmann supports the modernization of the Hungarian Army
22.12.2018
Krauss-Maffei Wegmann GmbH & Co.KG - KMW
DINGO (Wheeled armoured personnel carrier)
DINGO 2 (Wheeled armoured personnel carrier)
DINGO 2 (Repair and recovery vehicle)
DINGO 2 GSI (Repair and recovery vehicle)
DINGO 2 GSR (Reconnaissance Vehicle)
DINGO 2 HD (Wheeled armoured personnel carrier)
Discuss