Foster-Miller Awarded $96 million Contract for Additional TALON Robots
Category: Robots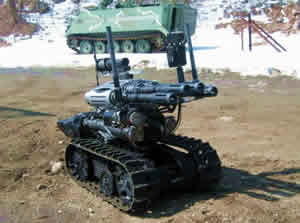 Foster-Miller, Inc., announced today that it has received its largest US military order to date for ground robots. The multi-year contract increased from $27.5 million for 250 robots to $124 million for up to 1200 TALON™ Explosive Ordnance Disposal (EOD) robots.
This order falls under the Man Transportable Robotic System program (MTRS) that is managed by the Naval Surface Warfare Center in Indian Head, MD. TALON™ robots will be delivered to Air Force, Army, Marine Corps and Navy EOD units around the world.
TALON robots are powerful, durable, lightweight tracked vehicles that are widely used for explosive ordnance disposal, reconnaissance, communications, sensing, security, defense and rescue. They are man-portable and have all-weather, day/night and amphibious capabilities and can navigate virtually any terrain.
Foster-Miller is the largest provider of robots for EOD work in Iraq and Afghanistan with more than 250 TALON robots deployed in theater. These TALON robots have successfully completed more than 50,000 EOD missions, and have rendered safe thousands of Improvised Explosive Devices (IEDs), increasing security and safety in Iraq and Afghanistan.
"Foster-Miller is honored that TALON robots continue to be the soldier's choice for EOD operations," said Dr. William Ribich, president and CEO. "Every robot we can put in harm's way helps to protect soldiers and civilians and reduces the threats posed on the battlefield. Foster-Miller remains committed to constant innovation to ensure that we provide our warfighters with the strategic advantages they need to complete their missions."
TALON robots have been in continuous, active military service since 2000 when they were successfully used in Bosnia to move and dispose of live grenades. They were used extensively at Ground Zero in search and recovery efforts after the September 11 attack on the World Trade Center and were the first robots taken into Afghanistan by Special Forces during action against the Taliban in 2002. TALON robots entered Iraq with US forces in March, 2003.
Foster-Miller, Inc.
16.09.2005

Share...





QNA Partners with Persistent Systems to Integrate MPU5 Radios into Family of UGV
12.01.2017
U.S. Army building smarter robots
01.11.2010
`Flying Robot` pilot helps find IEDs in Helmand
14.08.2010
QinetiQ`s TALON robots now in use in Afghanistan under a UOR
09.07.2010
TALON (Robot, Unmanned Vehicle)
Hafeet 640 Talon (Armoured car)
Discuss