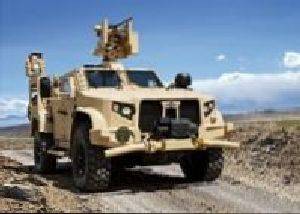 Oshkosh Defense, LLC, an Oshkosh Corporation company, announced today that the U.S. Army has placed a $100.1 million order for the Joint Light Tactical Vehicle (JLTV) program, to include 258 vehicles and associated installed and packaged kits. This is the seventh order for JLTVs since the contract was awarded in August 2015.
Intended to replace the aging up-armored HMMWV fleet, the JLTV program fills a critical capability gap in the U.S. military's current vehicle line-up.
"From a scheduling perspective, the JLTV program is on track. We are currently in Low Rate Initial Production (LRIP) and have delivered over 1,000 vehicles since October 2016," said Dave Diersen, Vice President and General Manager of Joint Programs at Oshkosh Defense. "The initial LRIP vehicles are undergoing a spectrum of Government testing, and Soldiers and Marines will begin receiving JLTVs for operational use in FY19."
The program also anticipates a Full Rate Production decision in FY19, and both Army and Marine Corps Initial Operating Capability (IOC) in early FY20.
"Over time, we are confident there will be opportunities to expand this powerful vehicle platform to include new variants and configurations," Diersen continued. "The JLTV program was designed to provide a new generation of protection, mobility and network capability. We also see significant international market potential for allies requiring a tactical wheeled vehicle proven to provide the ballistic protection of a light tank, the underbody protection of an MRAP-class vehicle, the network capability of a mobile command center, and the off-road mobility of a Baja racer."