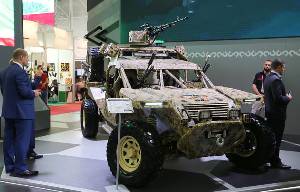 Serbia intends to purchase a batch of three-seat Chaborz M-3 military all-terrain vehicles, developed at the Russian University of Special Forces in Gudermes (Chechen Republic, Russia). This was reported by the assistant of the head of Chechnya and curator of the Russian special forces university, Daniel Martynov.
"We have already delivered one vehicle to Serbia, we have an agreement with them, just a few days ago they had a big show, and the Serbian Minister of Defense really liked our vehicle. They are now forming their technical reqirements, something needs to be changed for their purpose. And then we will continue to supply [all-terrain vehicles] to Serbia," said Martynov.
He noted that China and Kazakhstan are also interested in buying Chechen buggies. "A fully equipped M-3 combat vehicle (three-seater) costs about 1.7 million rubles, it all depends on the technical specifications. It is several times cheaper than foreign counterparts," the sources said.
Light multipurpose all-terrain vehicles capable of carrying a crew of three people and a load of up to 250 kilograms in difficult areas and off-road, in the steppe, desert and in the mountains. Vehicles are designed by Russian specialists, 95% made from Russian components and have been tested in the most difficult conditions. The volume of serial production is 30 vehicles per month.
The Russian Special Forces University is being built at the expense of private investments in more than 450 hectares in the city of Gudermes and is a multifunctional complex of 95 buildings and structures equipped with the latest special information and technical solutions. The university will cover such areas as fire, special tactics, airborne, mountain training, as well as the training of bodyguards and military journalists. Practically all these areas of the center will be accessible to tourists and residents of Chechnya. It is planned that the object will work in full capacity before the end of 2019.