Patria Received an Order for Patria Nemo Concept Study from the Finnish Navy
Category: Defence Industry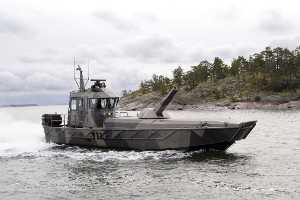 Patria has received an order from the Finnish Navy for a concept study con-cerning a combination of Patria Nemo mortar system and WATERCAT M12, developed by Marine Alutech Oy.
The project targets a possible prototype testing and serial production after the concept study. This project aims to create a new, mobile fire support system with high firepower for the coastal jaeger battalions enhancing their performance in coastal protection. The concept is believed to raise also wide interna-tional interest as a new mortar system application.
Patria Nemo mortar system represents Patria's own product development as part of the 120 mm mortar system product family. Patria Nemo is a single-barrel, unmanned turret system for indirect fire support, but due to its direct fire capability, it can also be used for self-defence. The light and compact turret is possible to be mounted on vessel, light tracked platform aw well as on 6x6 and 8x8 wheeled vehicles.
Sergyi Way
14.06.2007



www.army-guide.com
Milrem Signs Contract for the Latvian BV206 Maintenance
25.04.2019
Eurosatory 2018: Patria 6X6 - Multifunctional transport capacity far into the future
12.06.2018
BAE Systems and Milrem LCM Sign Maintenance Support Contract for Estonian CV90s
19.04.2018
The Finnish army is testing a new MiSu armored vehicle
15.12.2017
Nemo Container (Self-propelled mortar)