Germany Blocks the Sale of Dingo 2 Armoured Vehicles to Israel
Category: Defence Industry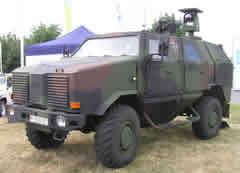 Early in February the German government blocked the signing of the contract for supply of Dingo 2 armoured vehicles from the USA to Israel. The move was caused by the apprehension that the vehicles can be used by the Israeli Army against the Palestinians.
The Dingo 2 vehicles are assembled in the USA by Textron Systems Marine & Land Operations under licence received from the German company Krauss-Maffei Wegmann GmbH & Co.KG. According to the licence, the American company is not authorised to export the assembled vehicles without agreeing it upon with the German government.
The German authorities stated that they had no principal objections against the supplies to be carried out by the Americans, and the only problem consisted in choosing the right time for that.
The contract, which is worth $60,000,000, will enable Israel to replace its old armoured personnel carriers being used on the Palestinian territories, with 100 up-to-date Dingo 2 vehicles. As is emphasized by the Israeli Army, they are less heavy than the in-service M-119 armoured personnel carriers, but provide a better degree of protection of the crew and vehicle-borne troops.
Sergyi Wey
15.02.2005



www.army-guide.com
Share...





Mercedes-Benz Special Chassis will release a FGA Component Kit and FGA 14.5 Special Chassis at Eurosatory 2012
29.05.2012
KMW presents new DINGO version
13.09.2011
German Army Orders 39 Additional DINGO 2 Armoured Patrol Vehicles
13.04.2011
Ashok Leyland Defence and KMW sign MOU on strategic partnership
23.02.2011
DINGO 2 (Wheeled armoured personnel carrier)
DINGO 2 (Repair and recovery vehicle)
DINGO 2 GSI (Repair and recovery vehicle)
DINGO 2 GSR (Reconnaissance Vehicle)
DINGO 2 HD (Wheeled armoured personnel carrier)
Discuss