Navistar Defense получает контракт стоимостью $ 18,8 млн. на поставку средних грузовиков Ираку
Категория: Контракты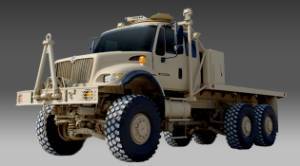 Недавно армия США заключила с Navistar Defense контракт на иностранную продажу военной техники на сумму 18,8 млн. долл. США, в соответствии с которым должно быть посьавлено в Ирак 115 средних тактических машин (MTV) International 7000-MV.
Грузовики MTV от Navistar Defense базируются на многоцелевой платформе International WorkStar, которые имеют высокую грузоподъи могут с успехом передвигаться как по бездорожью, так и по дорогам с твердым покрытием. Эта же платформа используется в качестве базы для машин с защитой от мин и засад MaxxPro MRAP.
«С 2004 года Navistar Defense поставила почти 7 000 грузовиков и автобусов в Ирак благодаря контрактаи на иностранные военные продажи», - сказал Кевин Томас (Kevin Thomas), президент Navistar Defense. «Как проверенный партнер, мы гордимся тем, что снабдили Иракскую армию очень универсальным и простым в эксплуатации тактическим военным грузовиком серии 7000, который обеспечивает большую эффективность в части сопровожденич, запасных частей, обучения и эксплуатации».
Большая часть работы будет выполнятьсч на заводе West Point, штат Миссисипи. Поставки планируется завершить в январе 2018 года.
Эти мащины используются иракскими силами безопасности в министерстве внутренних дел и министерстве обороны. Обеспечение поставок запчастей и поддержку в процессе эксплуатации машин в Ираке осуществляет местный партнер Navistar Defense, компания Hama.
Сергей Вэй
21.06.2017



www.army-guide.com
Чехия подписала контракт на поставку 62 бронетранспортеров TITUS 6x6
02.09.2018
FFG готовит опытный образец PMMC G5 для Норвегии
04.07.2018
DARPA демонстрирует новые технологии в рамках программы GXV-T
27.06.2018
Eurosatory 2018: ASC International FZE демонстрирует машину для спецназа Hornet
19.06.2018
MIZ International Logistics GmbH
Asia-Pacific Defence Reporter (Advertising, Australia & International)
Forecast International – Europe & Middle East
Jane's International Defence Review
Armed Forces Journal International
Lucky-Goldstar International Corporation
NET RESOURCES INTERNATIONAL LTD
DORNIER International Logistics
Technopol International J.S.C.
Rockwell International Tactical Systems Division
CIC International Ltd, Colombia Defence Corporation
Armor-Pdi Protection Development International Corp. (PDIC)
Atlantis Systems International
IAE International Aero Engines AG
Groupe Defense Conseil International
CNR, International Trade Fairs Inc.
Arab International Optronics (AIO)
Defense Conseil International (DCI)
International Training & Support GmbH (ITS GmbH)
Charcoal Cloth (International) Ltd
Pennant International Group plc
Aircraft Equipment International Ltd (AEI)
SRI International, Washington DC Office
Technoservice International Department
Innovative Business Corporation International - IBC
Swedish Armed Forces, International Centre
International Defence Training (Army)
THE INTERNATIONAL INSTITUTE FOR STRATEGIC STUDIES - IISS
COHBAT ARMOR INTERNATIONAL PTY LTD
Mass International (Pvt.) Ltd.
Burhan Armor Glass International
Micro Electronics International (Pvt.) Ltd.
Defence Technologies International
Advanced International Systems Limited
Al Tuff International USA LLC - ATI Defence
Daewoo International Corporation
Omnitech Robotics International, LLC
International Golden Group - IGG
International Security & Technologies Services
K. Services International Inc. (KSII)
Mobile Medical International Corp
International Truck and Engine Corporation
Business Systems International Pvt. Ltd
Science Applications International Corp. (SAIC)
International Truck and Engine Corporation
Defense Technology International
International Exhibition Center, Inc. - IEC
Amerimex International Company Inc
AT Electronic and Communication International Ltd
Creative Tent International Inc.
Critical Solutions International - CSI
International Armored Group - IAG