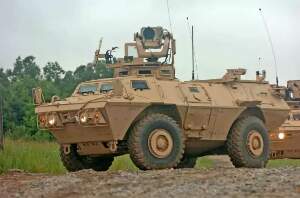 PARSIPPANY, N.J. -- DRS Technologies, Inc., a Finmeccanica Company, announced that it received a follow-on FY11 Reset contract valued at up to $22.8 Million from TACOM Life Cycle Management Command (LCMC), Warren, MI.
This contract is to provide the Program Executive Office Ground Combat Systems (PEO GCS) with Reset services for M1200 Armored Knight Systems for use by the U.S. Army Field Artillery units.
This order is a follow-on award to the inaugural FY10 M1200 Reset program where more than 80 M1200 Armored Knights were successfully Reset and deployed to Field Artillery units.
This work will be executed by the company's DRS Sustainment Systems Inc. (SSI) business unit at its facilities in St. Louis and West Plains, Missouri with completion expected in April 2013. As part of the contract, DRS SSI has entered into cooperative relationships with Textron Marine and Land Systems (TMLS) for the Reset of the M1200 Armored Security Vehicle ASV) chassis and Raytheon for the Reset of the Fire Support Sensor Subsystem (FS3).
Additionally, DRS will also provide logistic fielding and training services for operation and maintenance of the M1200 system.
The M1200 Armored Knight is used as a precision targeting fire support vehicle developed specifically for the Combat Observation Lasing Teams (COLT) in both the heavy and medium divisions by the US Army Field Artillery Units. The Armored Knight system increases force protection over legacy systems by combining DRS-SSI fire support Mission Equipment Package (MEP) into a modified Armored Security Vehicle (ASV) chassis which uses the Fire Support Sensor Subsystem (FS3) as its primary optical sensor. Armored Knight provides the COLTs with an automated enhanced surveillance, target location/designation, self-location/command, and control/communications package.
"We are proud to provide critical support of this equipment," says Joe Matteoni, vice president and general manager of DRS SSI. "This ensures the continued use of a premier Fire Support Platform that our soldiers use for their mission."