DRS Technologies Awarded Up To $400 Million U.S. Army Contract To Build New Joint Assault Bridge System
Category: Contracts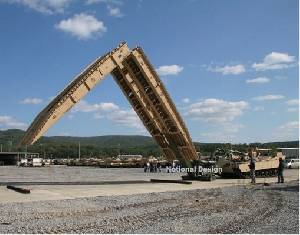 ARLINGTON, VA -- DRS Technologies, Inc., a Leonardo-Finmeccanica company, announced today that the U.S. Army has awarded it a competitively-bid indefinite delivery, indefinite quantity contract worth up to $400 million to build the new Joint Assault Bridge (JAB) system.
The JAB system is a track-wheeled vehicle built on a modified M1 Abrams platform. It is designed to carry, deploy and recover a heavy "scissor" bridge that provides gap-crossing capability for combat vehicles to cross wet or dry chasms. The system is an important tool for U.S. military ground forces, giving combat vehicles the ability to freely navigate the battlefield.
"The ability for combat vehicles to navigate easily on the battlefield is critical to the success of our armored vehicle warfighters," said Joe Matteoni, vice president and general manager, DRS Sustainment Systems. "This is an important program for our ground combat units, and DRS Technologies and Israel Military Industries Systems are proud to support our heavy armor combat teams by providing this technology to assist them in achieving their missions," he said.
DRS Technologies' Sustainment Systems business unit, based in St. Louis, MO., will be responsible for the overall production, management of the M1A1 chassis assembly, hydraulic bridge launcher production and the entire system integration. Production will occur in West Plains, Missouri, and Anniston, Alabama.
DRS has a public-private partnership with Anniston Army Depot for the management of the chassis assembly and worked with Israel Military Industries on the engineering and design of the JAB system.
About DRS Technologies
DRS Technologies is a leading technology innovator and supplier of integrated products, services and support to military forces, intelligence agencies and prime contractors worldwide. The company specializes in naval and maritime systems, ground combat mission command and network computing, global satellite communications and network infrastructure, aviation support and avionics systems, and intelligence and security solutions. Additionally, DRS builds power systems and electro-optical/infrared systems for a wide range of commercial customers. Headquartered in Arlington, Virginia, DRS is a wholly owned subsidiary of Leonardo-Finmeccanica S.p.A., which employs more than 47,000 people worldwide.
DRS Technologies
29.08.2016

Share...





The Dutch armed forces select Rheinmetall to modernize their Bergepanzer 3 Büffel
17.05.2019
Otokar debuts its Light Tank in Paris
19.06.2018
The Transatlantic Partner for Land Defense in Europe - General Dynamics European Land Systems premiers four new offerings at EUROSATORY 2018
08.06.2018
Rheinmetall at IDEX 2017
25.02.2017
MAN Technologie AG, Bridge Systems
Discuss