Otokar debuts its Light Tank in Paris
Category: Defence Industry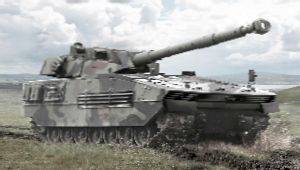 Otokar, the leading supplier of Turkish Land Forces, debuted its TULPAR Light Tank at Eurosatory 2018 in Paris, France.
Otokar, a Koç Group company, debuted its TULPAR Light Tank for the first time at Eurosatory 2018, Europe's largest defense industry exhibition in Paris, France between June 11th and 15th. Within its wide product range Otokar will also display its ARMA, COBRA II, KAYA II and COBRA armored vehicles with superior mobility as well as ballistic and mine protection along with turret systems.
Otokar General Manager, Serdar Görgüç, said, "Being Turkey's internationally recognized land platform manufacturer and operating in more than 30 countries in the world, we highly enjoy our extensive new vehicle development capabilities born by both our know-how and experience. We are more than happy to carry our experience in designing and developing armored vehicles, and particularly main battle tanks onto the new vehicles. Considering the continuously changing combat conditions and threats, light tanks, effectively serving as reconnaissance and fire support vehicles in modern armies are taking more important role in the world. By getting inspired from different requirements of our clients in different parts of the world, we combined our experience with our engineering and R&D capabilities, and debuted newly developed TULPAR Light Tank in Paris. We believe that light tanks will be more apparent in the inventories in the upcoming years."
Görgüç stated that Otokar manufactured various armored vehicles and turret systems in different types and versions ranging from 4x4, 6x6, 8x8 wheeled armored vehicles to tracked armored vehicles, "New TULPAR Light Tank is targeting several markets. Otokar is known in the global markets as a company that designed, developed and qualified Turkey's main battle tank and our most important reference in new purchases is our armored vehicles used in more than 30 countries in five continents. We are in talks with the countries that need and demand the light tank in particular."
"FROM EUROSATORY TO THE WORLD"
Pointing out that Eurosatory is one of the most important events of the sector, Görgüç said: "When Otokar decided to export Turkey's first armored vehicle our first stop was also Eurosatory. The armored vehicles we exhibited in Paris in the 1990s are still being used by different armies in the world. COBRA, which has been selling as one of the most preferred armored vehicles in the world for the last two decades and ARMA, which received two important export orders in its first year of serial production were also first exhibited here.
We are happy to see that today Otokar stands apart in the defense industry, not only with its land platforms but also global know-how, engineering, R&D and technology transfer capabilities. Last year our subsidiary Al Jasoor signed a significant 8x8 armored vehicle contract for UAE Armed Forces for its RABDAN, which is displayed right beside us, in Al Jasoor stand. Our aim is to be able to respond to the needs and expectations of different users in the best possible way through similar collaborations."
TULPAR LIGHT TANK
Otokar TULPAR Light Tank stands out with its mobility, fire power and protection. The vehicle is integrated with CMI Cockerill®'s 3105 turret with autoloader, which is capable of firing all kinds of 105 mm NATO ammunition and the Falarick Gun Launched Anti-Tank Guided Missile (GLATGM) with its high pressure 105 mm tank gun. The Fire Control System (FCS) with fully stabilized day/night (thermal imaging) sights and coincidence firing logic provides high first-round hit probability against static or moving targets and Hunter-Killer Capability provides single and multiple target engagements. CMI Cockerill® 3105 turret has a two-man crew.
TULPAR Light Tank offers effective solution for missions requiring high fire and destructive power. Thanks to its superior mobility, TULPAR Light Tank can operate in diverse terrains where the Main Battle Tanks cannot serve due to their weight and size; like bridge capacities or in built up areas.
TULPAR is designed as a multi-purpose vehicle platform in regards to users' needs of diverse missions. The vehicle offers an ideal platform for the light tank. Tested in the toughest climate conditions and the most challenging terrains, TULPAR features a modular armor technology that can be configured and scaled according to threats as well as the best mine protection in its class. TULPAR can be integrated with active protection systems and has the capacity to accommodate 3 crew (Commander, gunner and driver) plus 2 personnel. Its outstanding Integrated Logistic Support System provides low lifecycle support costs.
Otokar also exhibited the following vehicles at Eurosatory:
COBRA II
COBRA II, manufactured by Otokar with the mission of designing and manufacturing globally competitive land systems products, stands out with its superior performance. Built on the COBRA platform, COBRA II offers high level of protection and payload capacity and large internal volume. In addition to superior mobility, COBRA II also comes with the capacity to accommodate 9 personnel including the driver and commander, offering high protection against ballistic, mine and IED threats. Delivering high performance in the toughest terrain and climate conditions, COBRA II is optionally available with an amphibious version, adapting perfectly to different missions as needed. Preferred especially for offering a wide range of weapons integration and mission equipment options, COBRA II is successfully used in border protection as well as internal security and peacekeeping missions. The modular structure of COBRA II also makes it possible to be used as a personnel carrier, weapons platform, ground surveillance radar, CBRN reconnaissance vehicle, command control vehicle and ambulance.
ARMA 6x6
Otokar's multi-wheeled modular armored vehicle with high tactical and technical features, ARMA 6x6 offers superior mobility, high mine and ballistic protection, as well as medium and high-caliber weapon system integration options. ARMA also comes with an optional amphibious version for peacekeeping and humanitarian aid operations in the most demanding terrain and climate conditions. ARMA 6x6 stands out especially with its high battle payload and large internal volume. ARMA can be equipped with different weapons and turret according to the needs. The ARMA family can be used for different missions as an armored personnel carrier, armored combat vehicle, command control, CBRN reconnaissance vehicle while different weapon systems can be integrated into the vehicle.
COBRA
Otokar's COBRA armored vehicle, currently used in more than 15 countries worldwide, stands out with its high mobility and survivability. Providing superior mine and ballistic protection with its monocoque body, COBRA continues to be one of the world's most recognized armored vehicle in its class. Thanks to its modular structure, COBRA can be adapted to different vehicle configurations to serve as a personnel carrier, weapons platform, CBRN reconnaissance, ground surveillance radar, surveillance, ambulance or command post depending on the mission. COBRA is also available with an amphibious version.
KAYA II
KAYA II, exhibited at Eurosatory, was produced with Otokar's experience and knowhow in mine protected vehicles. Designed as a mine-resistant personnel carrier, KAYA II provides superior protection against both mines and kinetic-energy ammunition with a chassis that adapts to the terrain with a suspension system with torsion bars. Offering unparalleled mobility in all kinds of terrain and climate conditions, the 4x4 tactical wheeled armored vehicle KAYA II features a monocoque body. KAYA II has a capacity of carrying ten people including commander and driver.
Otokar
19.06.2018

Share...





Otokar offers solutions with technology transfer and local manufacturing models
13.09.2019
AKREP II electric armored vehicle presented in Turkey
25.04.2019
Otokar Receives $28.9 Million Contract for its Armored Vehicles
31.07.2018
Otokar to Present ARMA 8x8 in HEMUS 2018
04.06.2018
OTOKAR Otobus Karoseri Sanayi A.S.
Tulpar (Infantry fighting vehicle)
Tulpar S (Tracked armoured personnel carrier)
Discuss