Defence Industry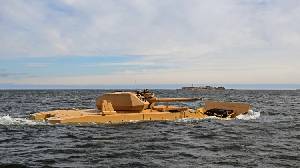 Patria AMV28A armoured wheeled vehicle completed successfully the swimming tests organised in the end of May in Finland. With a total weight of 28 tonnes the vehicle swam without difficulties, as expected. Patria AMV28A, where 28A stands for 28 tonnes GVW amphibious (sea-stage 3) vehicle, is the latest member of Patria AMV product family, introduced at IDEX 2017 event earlier this year.
In the swimming tests, two different Patria AMV28A vehicles were tested - one in test configuration with full amphibious weight of 28 tonnes and the other one equipped with Kongsberg PROTECTOR MCT-30 turret with some payload capacity available. Both vehicles had no difficulties completing the various amphibious tests at the Hanko area in southern Finland during rather strong wind conditions, constant wind speed being 10-13 m/s, in gusts more than 17 m/s.
Feature ...
---
21.06.2017 Visits - 1844
Defence Industry

The U.S. Army recently awarded Navistar Defense, LLC a foreign military sales contract valued at $18.8 million to provide 115 International® 7000-MV Medium Tactical Vehicles (MTV) to Iraq. 
---
17.06.2017 Visits - 2963
Defence Industry

BAE Systems Australia announced agreements with Victorian defence industry worth more than $200 million as part of its bid for LAND 400, the Australian Army's largest land vehicle acquisition program.
---
07.06.2017 Visits - 5963
Future Technologies

BAE Systems has signed a teaming agreement with QinetiQ to incorporate the latest technology for electric drive mobility systems on combat vehicles. This agreement combines BAE Systems' capabilities as a vehicle designer, developer, manufacturer, and systems integrator with the electric drive expertise offered by QinetiQ, a leading UK science and engineering company operating primarily in the defense, security, and aerospace markets.
---
04.06.2017 Visits - 6802
Exhibitions

From 31 May to 2 June 2017, Rheinmetall is showcasing its new family of LYNX combat vehicles at the IDET 2017 defence and security technology fair in Brno in the Czech Republic. Highly protected yet extremely agile, these tracked armoured fighting vehicles are destined to dominate the modern battlefield, with a versatile array of capabilities ranging from peace enforcement operations to high-intensity combat.
---
01.06.2017 Visits - 7677
Contracts

Versailles -- Nexter, the leading French land defense systems manufacturer has been awarded a contract by the Danish Defence Acquisition and Logistics Organization (DALO) for the supply of 15 (plus 6 as an option) 8x8 CAESAR® artillery systems to the Danish Army.
---
23.05.2017 Visits - 10039
Defence Industry

Kreuzlingen (Switzerland) -- The PIRANHA, the latest member of the PIRANHA family of 8x8 wheeled vehicles of General Dynamics European Land Systems (GDELS), which has been selected by the Danish Defence Acquisition and Logistics Organization (DALO) for the Armoured Personal Carrier (APC) requirement, enters the next stage in the procurement program.
---
19.05.2017 Visits - 11311
Defence Industry

Elbit Systems will present its latest version of the Spear mortar system – Spear MK2 – at the International Land Warfare and Logistics Conference in Latrun, Israel (May 16-18).
---
16.05.2017 Visits - 11638
Contracts
Mumbai -- Larsen & Toubro, India's multinational engineering conglomerate, has entered into a contract with the Ministry of Defence (MoD) for supply of 100 units of 155mm/ 52 calibre Tracked Self-Propelled Gun systems to the Indian Army.
---
14.05.2017 Visits - 12217
Defence Industry

Oshkosh, Wis. -- Oshkosh Defense, LLC has submitted a proposal in response to the U.S. Government's Request for Proposal (RFP) for Family of Medium Tactical Vehicles (FMTV) A2 production effort. Oshkosh's FMTV A2 proposal addresses the U.S. Army's need for increased payload and improved survivability, ride quality, and mobility.
---
09.05.2017 Visits - 13487
Exhibitions
Continuing to expand its product family with innovative products, FNSS is launching new vehicles and displaying the latest situation with its new platforms at IDEF 2017. Visitors of FNSS' stand will also find the opportunity to directly see and touch the future of land platforms.
---
09.05.2017 Visits - 13320
Defence Industry

Supacat has won the Queen's Award for International Trade for Outstanding Short Term Growth. The Queen's Enterprise Awards are the UK's most prestigious business awards and announced on HM The Queen's birthday. Supacat is an innovative engineering and design company, providing products and services globally, including specialist off-road wheeled and tracked vehicles.
---
09.05.2017 Visits - 12672
Exhibitions

Land defence systems house of Turkey, Otokar, a Koç Group company, is showcasing its own designed and manufactured, world renowned military vehicles and turret systems on 9-12 May 2017 at the 13th IDEF International Defence Industry Exhibition. At the 4-day exhibition, organized under the aegis of the Turkish Presidency and hosted by the Turkish Ministry of Defence, Otokar is exhibiting 15 armoured vehicles and its own designed turret systems.
---
09.05.2017 Visits - 12782
Defence Industry

KAZANLAK (BULGARIA) -- The PIRANHA INFANTRY Fighting Vehicle (IFV), a member of the PIRANHA family of vehicles, was officially presented on April 27th at the Military polygon Tylbeto near the city of Kazanlak in Bulgaria. The Military Unit Tylbeto in Kazanlak hosted the vehicle demonstration event, with a broad military audience, state officials and authorities and local industry in attendance.
---
09.05.2017 Visits - 12468
Defence Industry
Rheinmetall Defence Australia today announced Brisbane-based NIOA as the company's key supplier of ammunition and armament services for its Land 400 Phase 2 offer to the Commonwealth of Australia.
---
03.05.2017 Visits - 14078