Robots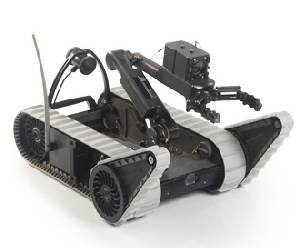 Endeavor Robotics, the U.S.-based, leading ground robotics company has received an order for 32 of the battle-proven Small Unmanned Ground Vehicles (SUGV) equipped with the Endeavor Robotics uPoint Multi-Robot Control System. To date more than 1,000 SUGV robots have been fielded worldwide to domestic and international defense, law enforcement, and industrial customers. The proven uPoint Multi-Robot control system greatly decreases on-robot training time by leveraging ubiquitous technology and familiar tablet-based user-interfaces. uPoint has been successfully integrated across the family of man-transportable Endeavor Robotics products, including the FirstLook®, SUGV, and PackBot®.
"All of us at Endeavor Robotics are singularly focused on the development, delivery, and sustainment of life-saving robot technology. The delivery of 32 SUGVs equipped with our uPoint Multi-Robot Control System advances the entire install base in terms of interoperability across the family of Endeavor Robotics' systems. These systems will augment the approximately 1,000 SUGVs already in use by our Armed Forces," said Sean Bielat, CEO. "We could not be more proud of the American warfighter and ...
---
14.08.2017 Visits - 2319
Contracts
ARLINGTON, VA -- Leonardo DRS, Inc. announced today that it has received an additional $58 million in orders from the U.S. ArmyMission Command Program Office to provide next-generation combat computing systems called the Mounted Family of Computer Systems, or MFoCS.
---
14.08.2017 Visits - 2277
Army

A final series of blast tests have been completed on the two shortlisted contenders vying to become the Australian Defence Force's new Combat Reconnaissance Vehicle.
---
12.08.2017 Visits - 2930
Contracts
OSHKOSH, Wis. -- Oshkosh Defense, LLC, an Oshkosh Corporation company, announced today that the U.S. Army has placed another order for the Joint Light Tactical Vehicle (JLTV) program including 748 vehicles and 2,359 installed and packaged kits. The order valued at more than $195 million, is the fifth order for JLTVs since the contract was awarded in August 2015.
---
02.08.2017 Visits - 6191
Defence Industry
Rheinmetall has entered a framework agreement to supply the German Bundeswehr with ammunition. In an initial move, the Federal Office for Bundeswehr Equipment, Information Technology and In-Service Support (BAAINBw) in Koblenz has placed an order for 5,000 rounds of DM11 service ammunition. The gross value of this first individual order comes to around ˆ45 million (ˆ38 million without VAT). Delivery will take place in 2017 and 2018.
---
28.07.2017 Visits - 7724
Defence Industry

ARLINGTON, VA -- Leonardo DRS announced today that it will provide the Australian Army with its next-generation platform Battle Management System (BMS) hardware, called the Mounted Family of Computer Systems, or MFoCS, for its M1A1SA main battle tanks and associated combat vehicles.
---
28.07.2017 Visits - 7248
Defence Industry

Troy, Michigan -- AxleTech International entered into a long-term supply agreement (LTSA) with Thales to deliver its 3000 Series Independent Suspension Modules (ISM) designed for the Hawkei 4x4 Protected Mobility Vehicle-Light (PMV-L).
---
25.07.2017 Visits - 7935
Defence Industry

Another consignment of 21 Casspir mine-protected vehicles is ready for handover and shipment to an African client. This forms part of a total order of 45 vehicles of which Denel has already delivered 24 during December 2016.
---
25.07.2017 Visits - 8069
Defence Industry
BAE Systems has signed an agreement with the Goriziane Group SpA, an Italian company that specializes in the engineering and maintenance of vehicles and other heavy equipment, to support the BvS10, the latest generation of highly mobile and widely used armored vehicles.
---
25.07.2017 Visits - 7559
Defence Industry
On 21st July 2017, Jankel will be joining many other military and security organisations and institutions for Belgium's National Day.
---
25.07.2017 Visits - 7275
Defence Industry

Versailles -- Nexter, RENAULT TRUCKS Defense and Thales are proud to have contributed to the success of the July 14th parade on the Champs-Elysées with the presence of a Multirole Armored Vehicle (VBMR) in a dynamic demonstration in front of the Presidential grandstands.
---
25.07.2017 Visits - 7273
Future Technologies

Rheinmetall has displayed its new "Infantry System" for the first time. It substantially enhances the combat performance of dismounted troops in connection with unmanned systems and fire support elements.
---
18.07.2017 Visits - 9176
Defence Industry
The German Bundeswehr has contracted with the Rheinmetall Group to supply expanded capabilities and additional equipment for the Puma infantry fighting vehicle. The Koblenz-based Federal Office for Bundeswehr Equipment, Information Technology and In-Service Support (BAAINBw) has awarded the project management company an order for a comprehensive expansion package with a gross value of ˆ260 million (ˆ218 million without VAT). In addition to this comes optional retrofitting with further components, for which ˆ108 million (including VAT) has been allocated. A member of the defence consortium tasked with developing and producing the Puma, Rheinmetall's share in the current order comes to ˆ115 million (ˆ97 million without VAT); commissioning of Rheinmetall within the consortium will take place in the next few weeks.
---
15.07.2017 Visits - 9990
Defence Industry
Rheinmetall Defence Australia today announced it had selected Queensland as its location for its Military Vehicle Centre of Excellence (MILVEHCOE) and the Australian Headquarters that will be established if the company is successful in securing Australia's Land 400 combat reconnaissance vehicle program.
---
15.07.2017 Visits - 9476
Army
The State Department has made a determination approving a possible Foreign Military Sale to the United Kingdom for Joint Light Tactical Vehicles (JLTV) and accessories. The estimated cost is $1.035 billion. The Defense Security Cooperation Agency delivered the required certification notifying Congress of this possible sale today.
---
11.07.2017 Visits - 10681