Robots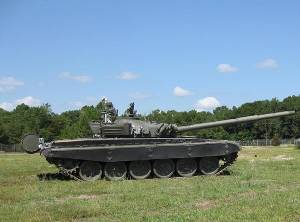 SAN DIEGO, -- Kratos Defense & Security Solutions, Inc., a leading US National Security Solutions provider, announced today that its Micro Systems, Inc. business unit, part of the Kratos Unmanned Systems Division (KUSD), has successfully converted a Russian T-72 Tank to operate unmanned.
In response to a need by the U.S. Army for a tank target, Kratos/Micro Systems converted the T-72 to be controlled by its Army Ground Aerial Target Control System (AGATCS). AGATCS is a vehicle and datalink agnostic control systems that has been interfaced to a wide variety of U.S. Army air, ground, and sea surface target vehicles.
Converting the T-72 presented a unique set of challenges not normally encountered with conventional vehicles. The dual tiller steering system required high l ...
---
18.04.2017 Visits - 1860
Contracts
CV90 in the national day parade in Tallinn, Estonia on 24 February. Photo credit Estonian Defence Forces
---
07.04.2017 Visits - 5040
Contracts

Rheinmetall Denel Munition of South Africa, a subsidiary of the Düsseldorf-based Rheinmetall Group, has won several major orders from an international customer for mine clearing equipment and ammunition. In total, the contracts are expected to be worth over ˆ90 million.
---
05.04.2017 Visits - 5409
Contracts

The contract, awarded by the Army's TACOM Life Cycle Management Command, is for ongoing service and improvements to BAE Systems-built M88A1 and M88A2 recovery vehicles over the next four years.
---
04.04.2017 Visits - 5511
Contracts

The Singapore Ministry of Defence has awarded a contract to Singapore Technologies Engineering Ltd (ST Engineering) for the production and supply of the Next Generation Armoured Fighting Vehicle (AFV).
---
27.03.2017 Visits - 8571
Defence Industry
Following the successful completion of the design and pre-production phase of the Self-Propelled Low Altitude Air Defence Gun System (KORKUT) project conducted by the Undersecretariat for Defence Industries (SSM) together with ASELSAN as the prime contractor and FNSS as the subcontractor, to meet the need of Turkish Land Forces, serial production phase has commenced.
---
23.03.2017 Visits - 9005
Defence Industry

The Jenoptik Defense & Civil Systems segment is to supply 17-kilowatt auxiliary power units and electric turret and weapon stabilization for the Leopard 2 tank.
---
22.03.2017 Visits - 8773
Defence Industry
The contract further builds on an existing teaming agreement between the two companies aimed at providing the Czech Republic with its next generation Infantry Fighting Vehicle (IFV).
---
21.03.2017 Visits - 8944
Defence Industry

Supacat and Rheinmetall MAN Military Vehicles Netherlands (RMMV NL) have teamed to offer Dutch-built Supacat Protected Vehicles for the 12kN air assault vehicle (AASLT) and a 12kN light-weight protected vehicle requirements as part of the Defence-wide Wheeled Vehicle Replacement Programme (DVOW) with the Dutch Army.
---
13.03.2017 Visits - 11398
Defence Industry
LISLE, Ill. -- The U.S. Army Contracting Command recently awarded Navistar Defense, LLC, two foreign military contracts valued at more than $475 million. The first is to produce and support 40 MaxxPro® Dash DXM™ Mine Resistant Ambush Protected (MRAP) vehicles for Pakistan. The second is to reset, upgrade and support 1,085 long wheel base MaxxPro® MRAP Excess Defense Article vehicles for the United Arab Emirates.
---
11.03.2017 Visits - 11457
Contracts

Rockwell Collins will serve as a subcontractor to Thales Australia to integrate the Digital Terminal Control System (DTCS) into the Integral Computing System (ICS) of the Hawkei Protected Mobility Vehicle-Light system.
---
03.03.2017 Visits - 13647
Contracts
NEW YORK -- L3 Technologies announced today that it has received a contract to provide 800-horsepower transmission kits for the Republic of Korea Army's K21 Next-Generation Infantry Fighting Vehicle and the Light Recovery Vehicle programs. L3 has supported the country's armed forces with advanced military vehicle transmission systems since 1999. The award is initially valued at $17.3 million, with product deliveries expected to begin in the third quarter of 2017 and be completed by 2019.
---
28.02.2017 Visits - 13492
Future Technologies

CHARLESTON, S.C. -- Science Applications International Corp. (NYSE: SAIC) unveiled its first Amphibious Combat Vehicle (ACV) 1.1 prototype to the U.S. Marine Corps during a ceremony held at the company's integration facility in Charleston, South Carolina. This vehicle is the first of 16 to be delivered for testing by the Marine Corps, which is scheduled to begin next month.
---
28.02.2017 Visits - 13460
Exhibitions
AM General, the premiere Global Vehicle Solutions Provider, showcased its innovative vehicle solutions, global reach and diversification at the International Defence Exhibition & Conference (IDEX) tradeshow held at the Abu Dhabi National Exhibition Centre, Feb. 19 – 23, 2017.
---
26.02.2017 Visits - 13812
Defence Industry
Safran Electronics & Defense and its Middle Eastern Partner, International Golden Group signed a contract for the supply of Epsilon One inertial ground navigation systems and technical integration services for an initial batch to outfit a first armored brigade of a Middle-East country.
---
25.02.2017 Visits - 13659