Bradley Driving… In Stereo
Category: Future Technologies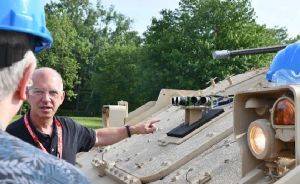 A U.S. Army TARDEC engineer explains the operation of the forward-facing camera package that enables depth perception during closed-hatch driving. TARDEC, with Honeywell Aerospace and DARPA, are demonstrating a proof-of-concept for closed-hatch driving using high-resolution stereo vision at Detroit Arsenal in Warren, Michigan, June 12, 2018.
Helmet-mounted stereo vision sounds like a solution for fighter jets, but Department of Defense engineers and industry experts are rooting this technology on the ground.
The U.S. Army Research, Development and Engineering Command's center for ground vehicle systems, TARDEC, working with Honeywell Aerospace, installed a prototype helmet-mounted stereo vision system previously developed under the Defense Advanced Research Projects Agency (DARPA) Ground X-Vehicle Technologies (GXV-T) program into a Bradley Fighting Vehicle this past week.
The Army's Tank Automotive Research, Development and Engineering Center's engineers regularly seek solutions for effective "closed-hatch" operations. That is, driving an armored vehicle with the top hatches closed in order to provide better protection for the crew. In its current configuration, the Bradley can only be driven closed-hatch with the driver peering through mirrored sights with a limited field of view.
Taking on the task is TARDEC's Mission Enabling Technologies-Demonstrator (MET-D) team, engineers who install forward-leaning technologies like high-resolution 360 situational awareness sensors, cutting-edge communications, unmanned aerial vehicles and more onto modified vehicle platforms. The team then operates these demonstration platforms in a variety of conditions and simulated operations to gauge how well the technology enhances Soldier mission effectiveness.
The MET-D team pursued adding the Honeywell Aerospace technology, developed for the GXV-T program, to an existing suite of 360-degree situational awareness sensors to complete the driving experience. The system includes an array of forward facing stereo camera pairs whose imagery is projected into the left and right eye of the user through a pair of holographic optical elements allowing them to perceive depth while showing a wide field of regard without causing nausea or eye strain.
"This is an incremental step in simulating direct sight conditions," says Troy Tava, TARDEC's project manager for MET-D. "It may possibly be the 'x-factor' for fully operational closed hatch driving."
TARDEC
06.07.2018

Share...





RAVEN Countermeasure System protects vehicles from missile threats
15.10.2019
Raytheon, Rheinmetall form joint venture for US Army combat vehicle competition
02.10.2019
Raytheon, Rheinmetall join forces for US Army's Next-Gen Combat Vehicle competition
14.10.2018
BAE Systems receives U.S. Army contract to begin M109A7 full-rate production
23.12.2017
Bradley M2/M3 (Infantry fighting vehicle)
Bradley M2A3/M3A3 (Infantry fighting vehicle)
Bradley M6 Linebacker (Anti-aircraft system)
Bradley M2A3 (Modernization of the vehicle)
Bradley M7 (Observation Post Vehicle)
Bradley M2A1/M3A1 (Infantry fighting vehicle)
Bradley M2A2/M3A2 (Infantry fighting vehicle)
Bradley M2A3 IBAS (Modernization of the vehicle)
Bradley AMTV (Ambulance vehicle)
Bradley AMEV (Ambulance vehicle)
Bradley BMV (Self-propelled mortar)
Discuss