Contracts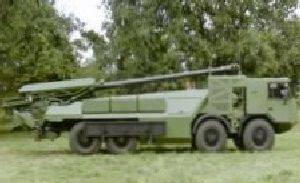 Systematic has been contracted by the Danish Defence Acquisition and Logistics Organisation (DALO) to deliver a new fire support capability for the Danish Army's latest artillery systems.
The new function builds on the Fire Support Module developed for Systematic's SitaWare Headquarters solution and will significantly shorten the sensor-to-shooter engagement cycle, among other benefits.
"The threat posed by counter-battery fire on the modern battlefield necessitates the ability for artillery systems to 'shoot-and-scoot' while maintaining accurate targeting," explained Hans Jørgen Bohlbro, Systematic's Vice President, Defence Product Management, "One of the benefits ...
---
17.07.2018 Visits - 299
Defence Industry

On July 12, 2018, the Indonesian company PT Pindad jointly with the Turkish company FNSS conducted a mine explosion test of the prototype of the medium tank.
---
13.07.2018 Visits - 503
Robots

Developed on an unmanned ground vehicle, the robot, called Snibot, can shoot with high precision to its targets.
---
10.07.2018 Visits - 543
Future Technologies

A U.S. Army TARDEC engineer explains the operation of the forward-facing camera package that enables depth perception during closed-hatch driving. TARDEC, with Honeywell Aerospace and DARPA, are demonstrating a proof-of-concept for closed-hatch driving using high-resolution stereo vision at Detroit Arsenal in Warren, Michigan, June 12, 2018.
---
06.07.2018 Visits - 754
Robots

Multifunctional Nerekhta CUGV (Combat Unmanned Ground Vehicle) has completed a full range of tests and is ready to be adopted by the Russian army. The family of Nerekhta CUGV can greatly enhance the combat capabilities of military units and reduce personnel losses.
---
04.07.2018 Visits - 882
Contracts

OSHKOSH, Wis. -- Oshkosh Defense, LLC, an Oshkosh Corporation (NYSE: OSK) company, announced today that the U.S. Army has placed a $484 million order for 1,574 Joint Light Tactical Vehicles (JLTV) and associated installed and packaged kits.
---
02.07.2018 Visits - 1005
Defence Industry

STERLING HEIGHTS, Mich. -- The U.S. Army has awarded General Dynamics Land Systems a $258 million contract modification to upgrade 116 Stryker flat-bottom vehicles to the Stryker A1 configuration.
---
28.06.2018 Visits - 1154
Defence Industry

ST. PETERSBURG, Fla. -- General Dynamics Ordnance and Tactical Systems was awarded a $33.8 million contract on May 22, 2018, by the U.S. Army Contracting Command, Warren, Mich., for the production of Army Ground Mobility Vehicles (AGMV) and associated kits.
---
28.06.2018 Visits - 1086
Robots
HORIBA MIRA – a world-leader in unmanned ground vehicle systems has displayed its state-of-the-art unmanned ground vehicle (UGV) platform, CENTAUR, at Eurosatory in Paris, France.
---
21.06.2018 Visits - 1423
Defence Industry

UK Special Forces vehicle designer and manufacturer, Supacat (part of SC Group), has today announced the recent delivery of the first production HMT Extenda vehicle to the Norwegian Armed Forces. The handover took place at Supacat's Devon facility on 30 May 2018.
---
21.06.2018 Visits - 1479
Defence Industry
KMW and Nexter welcome the announcement by the French and the German governments on the joint development of a new Main Ground Combat System and a new Common Indirect Fire System. The Letter Of Intent signed yesterday is a significant step forward in the defense cooperation between the two countries and in Europe. This close cooperation was the key motivation for the foundation of KNDS in 2015, where Nexter and KMW cooperate as national system houses for land systems.
---
21.06.2018 Visits - 1328
Defence Industry
The U.S. Marine Corps has awarded BAE Systems a $198 million contract to deliver an initial 30 Amphibious Combat Vehicles (ACV), with options for a total of 204 vehicles which could be worth up to $1.2 billion.
---
20.06.2018 Visits - 1478
Exhibitions

Eurosatory, Parc des Expositions Paris-Nord Villepinte, June 12, 2018 - Nexter, a company of KNDS, asserts its position as a global land defense player in the digital world by presenting advanced digital solutions and systems on this edition of Eurosatory.
---
20.06.2018 Visits - 1439
Defence Industry
Otokar, the leading supplier of Turkish Land Forces, debuted its TULPAR Light Tank at Eurosatory 2018 in Paris, France.
---
19.06.2018 Visits - 1475
Exhibitions

AxleTech is combining its expertise in electric vehicle powertrain systems and independent suspension technologies to develop a next-generation 5000 Series Electric Independent Suspension Axle System concept. The eISAS™, as it is known, was unveiled at Eurosatory 2018, the largest international defense and security exhibition, in Paris, France.
---
19.06.2018 Visits - 1417