Defence Industry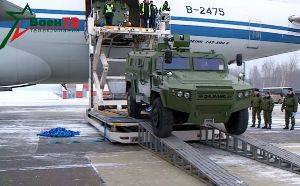 As reported by the VoentTV television channel of the Ministry of Defense of Belarus, on Jan. 18, 2018, a second shipment of Chinese CS/VN3 Dajiang light armored vehicles was delivered to Minsk by a Chinese transport aircraft, which was transferred to the Belarusian armed forces through military assistance from the Ministry of Defense of the China.
The first consignment of five CS/VN3 armored vehicles, delivered by the Chinese, was delivered to Belarus on June 20, 2017. These five vehicles then were tested in the battalion of the 361st Security and Maintenance Base of the Ministry of Defense of Belarus, including participation in the exercises "West-2017". According to unofficial sources, the China plans to transfer 30 of these vehicles to Byelorussia, which received the name "Dragon" in Belarus.
CS/VN3 armored vehicles have been ...
---
19.01.2018 Visits - 129
Defence Industry

Supacat has announced that the fleet of Special Operations Vehicles – Mobility Heavy (SOV-MH) has been accepted by the New Zealand Ministry of Defence. The fleet goes into service with the New Zealand Defence Force early this year.
---
18.01.2018 Visits - 143
Defence Industry
The Russian BTR-87 Armored Personnel Carrier will receive addon protective panels with special ceramics and titanium, the Vyksa's "Plant of Corps" reports.
---
13.01.2018 Visits - 377
Training And Simulators
Defence and security company Saab has received an order from the Federal Office of Bundeswehr Equipment, Information Technology and In-Service Support, BAAINBw, for upgrade of the German Army's vehicle simulators. The total order value is SEK 107 million. The upgrade programme will commence in 2018.
---
12.01.2018 Visits - 325
Robots
SOLON, Ohio -- HDT Global (HDT), a leading provider of highly engineered solutions for extreme environments across military, public and private sectors, announced today its Wheeled Offload Logistics Follower (WOLF) robotic system has been awarded a Phase II Squad Multipurpose Equipment Transport Program contract. The HDT Hunter WOLF system closely matches infantry mobility and can traverse narrow trails, steep slopes and dense jungles, while carrying up to 1000 lbs. of cargo for more than 72 hours without resupply.
---
10.01.2018 Visits - 386
Defence Industry
BAE Systems has submitted its bid for the Amphibious Combat Vehicle (ACV) 1.1 down-select with an offering that has superior mobility, survivability and increased carry and payload.
---
10.01.2018 Visits - 410
Army

The Department of Information and Communications of the Ministry of Defense of Russia reported that the new Typhoon-VDV 4x4 protected vehicle is being tested at special sites and test ranges.
---
04.01.2018 Visits - 721
Contracts

The Jenoptik Defense & Civil Systems segment will provide digital electric gun turret drive systems to a total value of more than 12 million euros.
---
02.01.2018 Visits - 708
Defence Industry
OSHKOSH, Wis. -- Oshkosh Defense, LLC, an Oshkosh Corporation (NYSE: OSK) company, announces today that it has been awarded a $40 million delivery order from the U.S. Army Tank-Automotive and Armaments Command (TACOM) to recapitalize vehicles from the U.S. Army Reserves Family of Heavy Tactical Vehicles (FHTV) fleet. Oshkosh will bring the Army's fleet of Heavy Expanded Mobility Tactical Trucks (HEMTT) to their latest model configuration and the same zero-mile, zero-hour condition as new production vehicles.
---
28.12.2017 Visits - 748
Contracts

Oshkosh Defense, LLC, an Oshkosh Corporation company, announced today that the U.S. Army has placed a $100.1 million order for the Joint Light Tactical Vehicle (JLTV) program, to include 258 vehicles and associated installed and packaged kits. This is the seventh order for JLTVs since the contract was awarded in August 2015.
---
23.12.2017 Visits - 840
Contracts
The U.S. Army has awarded BAE Systems a contract that clears the path to begin full-rate production of the company's M109A7 Self-Propelled Howitzer and M992A3 ammunition carrier vehicles.
---
23.12.2017 Visits - 848
Army

The Commander-in-Chief of the Russian Ground Forces Colonel-General Oleg Salyukov said that state contracts have already been concluded for the supply of an experimental industrial batch of T-14 Armata Main Battle Tanks (MBT) for military operation.
---
23.12.2017 Visits - 828
Robots

"At the operational-special gathering together with officials of the Main Command of the Ground Forces of the Russian Federation in the Moscow region, the Kungas Combat Unmanned Ground Vehicle (UGV) was demonstrated," the Russian Ministry of Defense reported.
---
22.12.2017 Visits - 782
Defence Industry
Defence and security company Saab has received an order from the German company Krauss-Maffei Wegmann GmbH (KMW) for deliveries of Mobile Camouflage Systems (MCS). Deliveries will take place during the period 2018-2022.
---
19.12.2017 Visits - 778
Robots

Tests of the Nerehta Armed Unmanned Ground Vehicle (AUGV) in winter conditions will be held in the city of Kovrov in the Vladimir region of Russia, the Department of Information and Mass Communications of the Ministry of Defense of Russia reports.
---
19.12.2017 Visits - 777