Exhibitions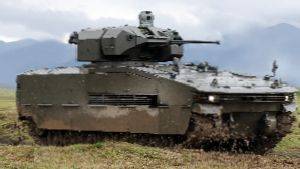 Otokar, a Koç Group company, will participate in the 20th edition of DSEI on 10-13 September 2019 in London, UK. Otokar, which offers solutions with transfer of technology and local manufacturing models for land system requirements of its customers, exhibits TULPAR armoured tracked vehicle and COBRA II wheeled armoured vehicle at DSEI 2019.
Otokar, serving more than 30 countries with combat-proven products, is participating at DSEI, the world leading defence industry and security event. At its stand, Otokar is exhibiting the TULPAR armoured tracked vehicle with Mızrak-30 turret system and also, wheeled armoured vehicle COBRA II is being displayed with Keskin turret system in the Land Zone Static Display Area. In addition to promoting its broad product range at the exhibition, Otokar will also provide information about its f ...
---
13.09.2019 Visits - 441
Exhibitions

MBDA and PGZ have unveiled at MSPO 2019 a Tank Destroyer armed with the Brimstone precision strike missile.
---
12.09.2019 Visits - 355
Exhibitions

Supacat, Rheinmetall Defence and SCISYS have partnered to showcase a new capability for light forces, the 'High Mobility Integrated Fires Capability', at DSEi. The partnership demonstrates Supacat's 6×6 HMT platform mounted with Rheinmetall's MWS81 mortar system in its first integration on a light vehicle. The target acquisition and integrated fire support platform is networked with SCISYS GVA compliant platform and mission software.
---
12.09.2019 Visits - 388
Future Technologies
At DSEi 2019 the world leading Special Forces vehicle developer, Supacat, is unveiling its Technology Demonstrator for hybrid and optionally manned operations, developed to keep pace with battlefield logistical requirements on extreme terrain and unpredictable routes.
---
12.09.2019 Visits - 349
Defence Industry

Nexter, a KNDS company, European leader in land defense, partook today to the signature ceremony of the acquisition of 62 TITUS® armored vehicles at the Czech Ministry of Defense (MoD).
---
30.07.2019 Visits - 1831
Robots

Russian engineering troops will soon begin to get into service the newest Kapitan Small-sized Unmanned Ground Vehicle (UGV), which has already passed the full cycle of field tests. Ministry of Defense of the Russian Federation reports about it.
---
30.07.2019 Visits - 1598
Defence Industry

Rheinmetall is taking on a key role in equipping the NATO spearhead Very High Joint Readiness Task Force 2023 (VJTF 2023), which will be furnished by the German Bundeswehr. Contracts have now been awarded to a consortium for the "System Panzergrenadier VJTF 2023" project, in which Rheinmetall's share comes to over ˆ470 million, including value added tax. Work has already begun and is set to continue through to the end of the VJTF readiness phase in 2024.
---
25.07.2019 Visits - 2045
Defence Industry
The U.S. Army has awarded BAE Systems a $45 million contract for the Extended Range Cannon Artillery (ERCA) Increment 1 prototype with the purpose of increasing the range and rate of fire on current and future M109A7 self-propelled howitzers.
---
22.07.2019 Visits - 2009
Defence Industry
A partnership between three Australian SMEs is helping deliver training targets equipped with controlled thermal signatures to the Australian Defence Force.A world-first in commercial viability and agility, and a new capability for the Australian Government, the product enables army personnel to successfully engage practice targets using remote SMArt155 Precision Guided Munitions.
---
16.07.2019 Visits - 2044
Defence Industry
RBSL intends to play a major role in manufacturing the Boxer 8x8 for the British Army's Mechanised Infantry Vehicle (MIV) programme and other strategic combat vehicle programmes, while also providing support to the British Army's in-service bridging and armoured vehicle fleets.
---
02.07.2019 Visits - 2881
Exhibitions

At the Army-2019 Fifth International Military-Technical Forum, which will open on June 25, 2019 in Kubinka (Moscow region, Russia), Military Industrial Company (part of the GAZ Group) will present Tiger Next, a new version of the 4x4 multipurpose protected vehicle. According to some reports, the it has the official designation Tiger AMN-2.
---
24.06.2019 Visits - 2844
Defence Industry
Thales Australia welcomes the announcement that GD-OTS was awarded a US$15 million contract for the prototype and process development of a 155mm XM1113 Rocket-Assisted Projectile Round.
---
12.06.2019 Visits - 2384
Defence Industry
Last month, GCS had the opportunity to test and demonstrate the maximum survivability of one of its remote-controlled multi-purpose machines, the GCS-200. Equipped with the T-200 Tiller attachment, the machine underwent a rigorous testing protocol by the Croatian Mine Action Centre – Centre for Testing, Development and Training (CROMAC-CTDT). The GCS-200 delivered an outstanding performance and successfully neutralised 22 mines. As a result, the GCS-200 received certification from CROMAC for safe, efficient and effective mechanical demining.
---
24.05.2019 Visits - 2939
Defence Industry
Rheinmetall is to modernize the Dutch military's fleet of Bergepanzer 3 Büffel ('buffalo') armoured recovery vehicles. A contract to this effect was signed on 18 April 2019 at Soesterberg, a military base near Utrecht. In a first phase, four vehicles will undergo a combat performance upgrade. The order is worth a double-digit million-euro figure. In a second phase, a further 21 vehicles are to undergo corresponding modernization. This option, also worth a figure in the double-digit euro range, already features in the contract.
---
17.05.2019 Visits - 3159
Defence Industry
The Armoured Engineer Nuclear, Biological and Chemical Reconnaissance Vehicle (AENBCRV)version of the AV-8 Wheeled Armoured Vehicle (WAV) developed by the FNSS and DRB HICOM Defence Technologies Sdn Bhd (DEFTECH) partnership for the Malaysian Army is preparing for delivery in the first half of this year.
---
29.04.2019 Visits - 5641