Kungas Unmanned Ground Vehicle Tested in Russia
Category: Robots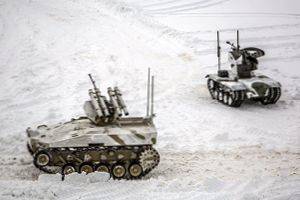 The Russian Ground Forces completed the state tests of the Kungas Unmanned Ground Vehicle (UGV). This was in an interview with the newspaper Krasnaya Zvezda the Army General Oleg Salyukov, Commander-in-Chief of the Ground Forces. According to him, in 2020, the Russian military will begin experimental-military operation of the complex.
Today, the military of many countries of the world is paying more and more attention to the development and adoption of various robotic systems, which could be used not only for EOD, but also for solving many other tasks. In particular, it is planned to use new robots for the protection of important objects, reconnaissance and combat.
It is believed that the widespread use of combat robots will significantly reduce losses among personnel. According to Krasnaya Zvezda, the Kungas complex includes four robots of different classes and a control center. What kind of robots are included in the complex, the newspaper does not specify.
Earlier, the Zvezda TV channel said that this complex consists of five UGVs: a portable weight of 12 kilograms, a light weight of 200 kilograms, a transportable weight of 2 tons, a Nerekhta combat UGV and a robotic version of the BTR-MDM Rakushka armored personnel carrier. All these UGVs are controlled from one center.
Sergyi Way
11.12.2019



www.army-guide.com
Share...





In Russia started testing the Marker UGV
05.03.2019
Nerekhta multifunctional UGV on the State tests
05.02.2019
The Nerehta Combat Unmanned Ground Vehicle is ready to be adopted by the Russian army
04.07.2018
Ministry of Defense of Russia demonstrated a new Kungas UGV
22.12.2017
Kungas (Robot, Unmanned Vehicle)
Discuss