The Nerehta Combat Unmanned Ground Vehicle is ready to be adopted by the Russian army
Category: Robots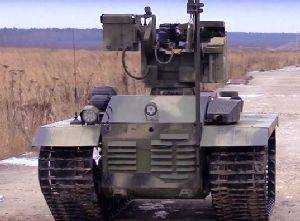 Multifunctional Nerekhta CUGV (Combat Unmanned Ground Vehicle) has completed a full range of tests and is ready to be adopted by the Russian army. The family of Nerekhta CUGV can greatly enhance the combat capabilities of military units and reduce personnel losses.
The unique CUGV can perform the functions of transporter, support, reconnaissance vehicle, anti-EOD robot, combat platform and so on. The uniqueness of Nerekhta is in the combination of an electric motor and a classic internal combustion engine, as well as equipping the front and rear cameras with infrared illumination.
This CUGV can accommodate up to five fighters. Vehicle is fully protected by armor. The body is protected by the 5th class, as an Infantry Fighting Vehicle or an Armored Personnel Carrier, and can protect against small-arms bullets and grenade spalls.
With a weight of one and a half tons, the robot is able to reach speeds of up to 32 km/h and overcome any terrain, including snow drifts, swamps, sand and forest. A small robot has less signature than conventional armored vehicle.
Within the framework of the state tests, Nerekhta successfully completed all types of live firing. Representatives of the Russian Defense Ministry highly appreciated the combat platform, which is ready for operating by the Russian army.
Sergyi Way
04.07.2018



www.army-guide.com
Share...





In Russia will be tested the Nerehta combat robot
19.12.2017
Nerehta (Robot, Unmanned Vehicle)
Discuss