Otokar offers solutions with technology transfer and local manufacturing models
Category: Exhibitions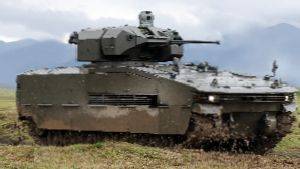 Otokar, a Koç Group company, will participate in the 20th edition of DSEI on 10-13 September 2019 in London, UK. Otokar, which offers solutions with transfer of technology and local manufacturing models for land system requirements of its customers, exhibits TULPAR armoured tracked vehicle and COBRA II wheeled armoured vehicle at DSEI 2019.
Otokar, serving more than 30 countries with combat-proven products, is participating at DSEI, the world leading defence industry and security event. At its stand, Otokar is exhibiting the TULPAR armoured tracked vehicle with Mızrak-30 turret system and also, wheeled armoured vehicle COBRA II is being displayed with Keskin turret system in the Land Zone Static Display Area. In addition to promoting its broad product range at the exhibition, Otokar will also provide information about its flexible business model which includes transfer of technology and local manufacturing models.
"WE ARE READY TO MEET REQUIREMENTS WITH TECHNOLOGY TRANSFER AND LOCAL MANUFACTURING MODELS"
General Manager Serdar Görgüç emphasized that Otokar has the capabilities and the infrastructure to rapidly design and develop modular products in line with users' current and future needs, "In the last 10 years, we have allocated 8.5 per cent of our revenues for our R&D activities. We continue to introduce innovative solutions in land systems by taking into account the current and future requirements of modern armies and security forces. Last May, we unveiled one of the best examples of this with our electric armoured vehicle Akrep IIe, which provides an excellent choice for reconnaissance and surveillance missions.
Our combat-proven vehicles are actively used in very different geographies, extreme climatic conditions and conflict zones. We analyse the different needs and expectations of our users for land systems, and develop solutions that meet these requirements in the fastest manner thanks to our excellent engineering and superior R&D capabilities. We are ready to meet the different requirements of armed forces, not only by supplying products but also through transfer of technology and local production models. At the exhibition, we plan to share our experience and capabilities in this field with our customers."
Görgüç stated that Otokar, as a supplier of NATO and the United Nations, brings its know-how and experience in modular land systems to tracked vehicles with TULPAR, "TULPAR is designed to meet todays and future needs of modern armed forces. With its superior mobility and high level of protection, the vehicle can operate in a wide range of challenging terrains and climate conditions. TULPAR, which features a modular design, can be manufactured in a number of variants to meet user needs."
TULPAR
TULPAR is designed as a multi-purpose vehicle with variants ranging from 28 tonnes to 45 tonnes to fully satisfy the future global requirements. Future-oriented perspective of modularity is to increase operational flexibility by using common components and a common chassis over wide range of vehicle variants. TULPAR comes in several variants that share common subsystems. The common platform can accommodate a medium tank; infantry fighting vehicle; armoured personnel carrier; reconnaissance vehicle; command and control vehicle; air defence; ambulance; repair and recovery vehicle; mortar vehicle and other vehicle variants. TULPAR is a multipurpose platform with high lethality, modularity and growth potential that can be tailored to meet current and future operational requirements.
COBRA II
COBRA II, manufactured by Otokar with the mission of designing and manufacturing globally competitive land systems products, stands out with its superior performance. COBRA II offers high level of protection and payload capacity and large internal volume. In addition to superior mobility, COBRA II also comes with the capacity to accommodate 10 personnel including the driver and commander, offering high protection against ballistic, mine and IED threats. Delivering high performance in the toughest terrain and climate conditions, COBRA II is optionally available with amphibious capability, adapting perfectly to different missions as needed. COBRA II, subjected to rigorous field tests in different parts of the world, travelled thousands of miles. More importantly, different variants of COBRA II are today operated in various combat operations throughout the Middle East and Africa proving the the vehicle's adeptness to enhance combat capability of the user. Preferred especially for offering a wide range of weapons integration and mission equipment options, COBRA II is successfully used in border protection as well as internal security and peacekeeping missions. The modular structure of COBRA II also makes it possible to be used as a personnel carrier, weapons platform, ground surveillance radar, CBRN reconnaissance vehicle, command control vehicle and ambulance. COBRA II is already in service with Turkish Armed and Security forces and with various export customers.
Sergyi Way
13.09.2019



www.army-guide.com
Share...





General Dynamics Land Systems–UK showcases adaptable Foxhound vehicle at DSEI 2019
23.09.2019
AKREP II electric armored vehicle presented in Turkey
25.04.2019
Otokar Receives $28.9 Million Contract for its Armored Vehicles
31.07.2018
Otokar debuts its Light Tank in Paris
19.06.2018
OTOKAR Otobus Karoseri Sanayi A.S.
Discuss