Supacat, Rheinmetall and SCISYS partnership showcases new High Mobility Integrated Fires Capability
Category: Exhibitions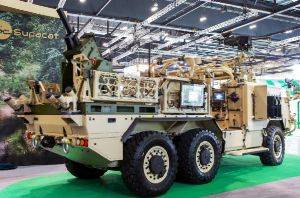 Supacat, Rheinmetall Defence and SCISYS have partnered to showcase a new capability for light forces, the 'High Mobility Integrated Fires Capability', at DSEi. The partnership demonstrates Supacat's 6×6 HMT platform mounted with Rheinmetall's MWS81 mortar system in its first integration on a light vehicle. The target acquisition and integrated fire support platform is networked with SCISYS GVA compliant platform and mission software.
Supacat's highly mobile HMT platforms with their superior off road performance allow users to perform high tempo operations delivering indirect fire for light role forces while the MWS81 mortar capability allows for rapid 'into action time'. The Vingmate sight provides target acquisition and location during day and night operations, with targets being shared over the battlespace data network enabling Support Weapon effects to be directed precisely onto targets.
The SCISYS developed GVA compliant platform and mission software shares data and video around the platform to each crew member's display and into the battlespace networks, enhancing shared situational awareness and speed of decision making. The displays are supplied by Leonardo.
"This enhanced capability is a first for light forces and offers a solution to a number of potential requirements among the green army and Special Forces", said Phil Applegarth, Head of Supacat.
Supacat
12.09.2019

Share...





Rheinmetall MAN Survivor R special protected vehicle on show at GPEC 2020 international security exhibition in Frankfurt/Main
24.02.2020
Rheinmetall books ˆ110 million-contract to extend the service life of the Marder infantry fighting vehicle for the Bundeswehr
21.01.2020
Rheinmetall to Feature Next Generation 130mm Tank Gun at AUSA Global
04.11.2019
Rheinmetall Presents Next Gen "Wiesel Wingman" solution for Robotic Combat Vehicle – Light at AUSA 2019
04.11.2019
Rheinmetall MAN Military Vehicles GmbH - RMMV
Rheinmetall Verseidag Ballistic Protection GmbH
Rheinmetall Soldier Electronics GmbH
Rheinmetall AG, Representative Office Abu Dhabi
Rheinmetall Waffe Munition GmbH
Rheinmetall Defence Electronics GmbH
Rheinmetall Waffe Munition Arges GmbH
American Rheinmetall Munitions, Inc. - ARM
Rheinmetall Denel Munition (Pty) Ltd - RDM
Discuss