The new Typhoon-VDV 4x4 protected vehicle is being tested in Russia
Category: Army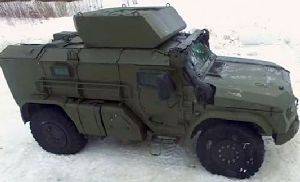 The Department of Information and Communications of the Ministry of Defense of Russia reported that the new Typhoon-VDV 4x4 protected vehicle is being tested at special sites and test ranges.
The main advantage of the new vehicle in addition to increased security of personnel and equipment with a modern weapons complex, will be its ability to parachute airborne.
Serial production of such vehicles for the airborne troops is planned to begin in 2019 after the ending of tests and inspections.
K-4386 Typhoon-VDV 4x4 is a part of the family KAMAZ Typhoon for airborne troops, which has a mine protection.
The development of the project for a new armored vehicle began in late 2015, and five months later the first prototype was produced.
Among the requirements for the vehicle - the possibility of parachute landing, as well as protection against small arms and mines.
The vehicle is driven by a KAMAZ 610.10-350 350hp diesel engine - produced under Cummins license in Russia. The power allows the vehicle to move at top speed of 105 km/h with a range of up to 1200 km.
As an armament on the Typhoon-VDV can be installed Epoch remotely-controlled veapon station with 2A42 30-mm gun, develped by the Central Research Institute BUREVESTNIK.
Sergyi Way
04.01.2018



www.army-guide.com
Share...





Uralvagonzavod demonstrates BMP-3 with AU-220M weapon station
04.06.2018
Leonardo-Led Team To Demo 'ACTIVE Armour' To Protect British Army Vehicles And Their Crews Against Current And Future Weapons
14.09.2017
Ground troops and pilots train for Afghanistan in simulator
02.11.2009
Booming Saudi Arms Buying Leads Middle East Arms Market
12.12.2006
OAO Central Research Institute BUREVESTNIK
TYPHOON M96 (Self-propelled rocket launcher)
Mini Typhoon (Remote controlled weapon station)
Typhoon (Wheeled armoured personnel carrier)
T-55M8A2 Typhoon (Modernization of the vehicle)
KAMAZ-63968 Typhoon-K (Mine protected carrier)
Typhoon (Mine protected carrier)
KAMAZ-53949 Typhoon-K (Mine protected carrier)
KAMAZ-63969 Typhoon-K (Wheeled armoured personnel carrier)
Typhoon 6x6 (Mine protected carrier)
Typhoon-2 (Mine protected carrier)
DUBM-30 Epoch (Remote controlled weapon station)
K-4386 Typhoon-VDV (Mine protected carrier)
Discuss