More Foxhound vehicles for British Army
Category: Army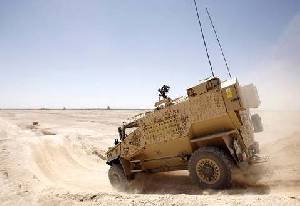 Foxhound, designed and built in the UK by General Dynamics Land Systems: Force Protection Europe, first deployed to Afghanistan in 2012 and has proved successful on operations.
Foxhound represents leading edge technology, and the vehicles are agile enough to reach a top speed of 70mph and have a V-shaped hull, providing unparalleled protection against a range of threats for their weight and class.
Since 2010, MOD has invested £371 million in Foxhound and the latest order will take the Army's total fleet to 400 vehicles.
Announcing the contract at the DSEI (Defence Security Equipment International) Conference in London, Minister for Defence Equipment, Support and Technology, Philip Dunne said:
"Foxhound gives our Armed Forces enhanced mobility, enhanced protection and enables them to operate in a wide range of environments.
"This further £23 million investment will bolster the British Army's capability far into the future and demonstrates our commitment to provide troops with the battle-winning vehicles they deserve.
"There is no better advertisement for the British Defence industry on the international stage than the UK's Armed Forces using British-built equipment on operations."
UK MoD
12.09.2013

| | | |
| --- | --- | --- |
| Actions... | | |
| | | |
| | | |
| | | |
| | | |
New telemax 4x4 Explosive Ordnance Robot Introduced At DSEI
18.09.2015
Northrop Grumman Remotec Next-generation Andros FX Robot on Display at DSEI
18.09.2015
BAE Systems showcases new mine clearing capability for Terrier® combat engineer vehicle
18.09.2015
Ricardo joins forces in UK partnership to sustain and upgrade the Mastiff
29.11.2013
Ocelot LPPV/Foxhound (Mine protected carrier)
Discuss
Records 1 to 1 of 1
Post

Banya
21:19 19.11.2013


Be interesting to watch as they are attempting to build trucks themselves for the first time in the UK at a new facility in Telford rather than using Ricardo or Formaplex who built the other 376. Not sure what the MOD customer view is on this.