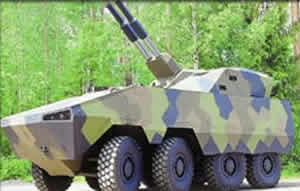 The completion of the first two AMOS-AMV mortar vehicles was celebrated today at a roll-out ceremony in Patria's Weapon Systems premises in Vammala, Finland.
Patria Weapon Systems has manufactured the weapon and loading systems while BAE Systems Hagglunds has produced the armoured turret and integrated the fire control system. Final turret integration into Patria AMV 8x8 armoured wheeled vehicle has been carried out by Patria Weapon Systems.
Patria Hagglunds Oy, jointly owned by Patria and BAE Systems Hagglunds of Sweden, was awarded a contract in 2003 by the Finnish Defence Forces of 24 AMOS (Advanced MOrtar System) turret systems integrated on Patria AMV 8x8, the most advanced armoured modular vehicle in the market at present. Deliveries take place in 2006 - 2009. Total value of the order is over EUR 100 million.
AMOS representing the latest technology in mortar systems together with Patria AMV with over 100 vehicles delivered so far offers an outstanding solution for a wide range of fire support needs in many different environments and operations.
"We have been extremely happy with our cooperation with the Finnish Defence Forces in this Project. Also the Swedish Armed Forces have cooperated in the AMOS development work and we are looking forward to continuing the AMOS project with the Swedish customer in the near future", states Mr Jarmo Puputti, Executive Vice President of Patria's Weapon Systems Business Unit.
"This delivery confirms the 10 year long successful cooperation between Hagglunds and Patria Weapon Systems. Both Hagglunds and Patria have a new product with big potential to launch on the export market," states Mr Sven Kagevall, Managing Director of BAE Systems Hagglunds AB.