General Dynamics Selected for Merkava Armored Personnel Carriers for Israel
Category: Defence Industry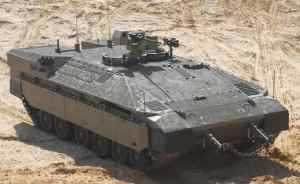 STERLING HEIGHTS, Mich. –- General Dynamics Land Systems, a business unit of General Dynamics, has been selected to negotiate a contract with the Israeli Ministry of Defense for Merkava Armored Personnel Carriers (APC).
The competitive procurement process was for the production of Merkava APC hulls, material kit sets and integration of the kits to the vehicle chassis. General Dynamics expects to complete contract negotiations by the end of this year.
Production will be performed at the Joint Systems Manufacturing Center in Lima, Ohio. The base contract will be completed by March 2015 or extend to November 2019 if all options are exercised.
General Dynamics
31.10.2010

KONGSBERG CONCLUDES A $ 54 MILLION CONTRACT FOR THE DELIVERY WEAPON STATIONS TO CANADIAN ARMY
05.06.2020
Germany awards 159 MUSD vehicle contract to GDELS
24.04.2020
Switzerland awards contract to General Dynamics European Land Systems- Mowag to deliver 100 EAGLE 6x6 reconnaissance vehicles
06.12.2019
General Dynamics Land Systems–UK showcases adaptable Foxhound vehicle at DSEI 2019
23.09.2019
General Dynamics Land Systems - GDLS
General Dynamics Ordnance and Tactical Systems
General Dynamics European Land Systems-Mowag GmbH
General Dynamics Santa Barbara Sistemas
General Dynamics Armament Systems
General Dynamics Defence Systems
General Dynamics European Land Systems-Steyr GmbH
General Dynamics Armament and Technical Products (GDATP)
General Dynamics Amphibious Operations - GDAMS
General Dynamics Corp., Advanced Information Systems
General Dynamics Robotic Systems - GDRS
General Dynamics Land Systems - GDLS - Canada
General Dynamics European Land Systems - GDELS
MERKAVA Mk-3 (Main battle tank)
MERKAVA Mk-2 (Main battle tank)
MERKAVA Mk-4 (Main battle tank)
MERKAVA Mk-1 (Main battle tank)
Namer (Tracked armoured personnel carrier)
Merkava ARV / NAMER (Repair and recovery vehicle)
MERKAVA Mk-4 BAZ (Main battle tank)
MERKAVA Mk-4 LIC (Main battle tank)
MERKAVA Mk-4M (Main battle tank)