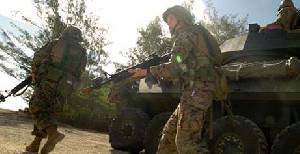 SAN DIEGO -- Cubic Defense Applications, the defense systems business unit of Cubic Corporation, has been awarded a $49 million indefinite delivery type contract from the U.S. Marine Corps Systems Command to supply an advanced Instrumented-Tactical Engagement Simulation System (I-TESS II).
Cubic will provide a turn-key deployable training capability that includes an immersive training environment that replicates the stresses and threats of actual combat. This system will be used in Marine force-on-force and force-on-target training exercises, including indoor and outdoor military operations in urban terrain (MOUT) training, at multiple locations in the U.S. and abroad.
ITESS II is a fully integrated ground combat training system based on the company's latest laser-based wireless instrumentation products. This system includes: small arms laser transmitters, rocket-propelled grenade and AT-4 anti-armor simulators, man-worn and wireless vehicle laser detection, and mobile and portable command and control systems that capture and display real-time participant position/status and creates objective data based after-action reviews.
"This system will provide the U.S. Marine Corps an exceptional training environment using proven components," said Ray Barker, Executive Vice President of Cubic Defense Applications. "Our system will support small unit training, and is capable of integrating multiple units for combined arms training at higher echelons. It also allows Marines to fully integrate live, virtual and computer-based constructive elements into their training mix for a more complex and realistic training experience."
Cubic Corporation is the parent company of three major business segments: Defense Systems, Mission Support Services and Transportation Systems. Cubic Defense Systems is a leading provider of realistic combat training systems, cyber technologies, asset tracking solutions, and defense electronics. Mission Support Services is a leading provider of training, operations, maintenance, technical and other support services. Cubic Transportation Systems is the world's leading provider of automated fare collection systems and services for public transit authorities.