Hawkeye lightweight SPH from Mandus Group will take part in MFIX
Category: Future Technologies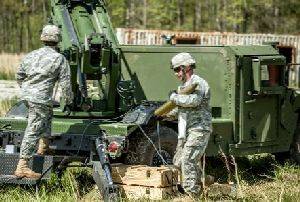 Mandus Group is extremely pleased to announce that the HMMWV/Hawkeye self-propelled howitzer will be participating in the Maneuver Fires Integrated Experiment (MFIX) at Ft. Sill, OK, December 4-13.
This is an opportunity for the Army to test and evaluate the Hawkeye in live fire demonstrations as part of the MFIX artillery focused mission scenarios. The Hawkeye will be operated by active duty Army soldiers which will allow both the Army and Mandus Group the ability to gain valuable feedback from experienced artillery crewmen on the performance of the self-propelled howitzer in actual field exercises.
HMMWV/Hawkeye Howitzer System incorporates advances in protection, payload, suspensions and life-cycle sustainment at an affordable price to meet the unique expeditionary requirements of global customers. It exemplifies the steady evolution of the HMMWV based on customer feedback, battlefield experiences, and innovation. AM General representatives will be on-hand to discuss this innovative vehicle system.
Key Features:
The 105mm Mobile Weapon System (MWS) is the lightest weight, most highly maneuverable self-propelled howitzer in the world today.
Hybrid Soft Recoil technology allows weapon to be paired with AM General HMMWV
Lightweight at less than 2,400 lbs. (1,100 kg)
Direct fire scope is digital camera in conjunction with the digital fire control
Most maintenance can be performed at unit level
Electronically controlled elevation and azimuth work with digital fire control
Growth potential for all features including a longer caliber cannon
Reduced maintenance costs due to efficient design
Sergyi Way
30.11.2017



www.army-guide.com
AM General Displays Innovative Vehicle Solution Offerings Tailored For Fleet Readiness at AUSA 2016
05.10.2016
Tactical Satellite VSAT Communication
04.05.2015
Sherpa/Hawkeye 105 (Self-propelled howitzer)