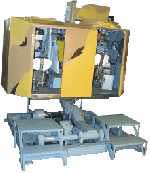 The user acceptance trials of the up-to-date computer-based T-64 crew training simulators have been successfully completed at the Kharkiv Morozov Machine Building Design Bureau (the T-64 MBTs are the core element of Ukraine's Armoured Corps).
Ukraine keeps paying more and more attention to reforming its Armed Forces. In the summer of this year the State Enterprise Malyshev Plant was awarded a contract for modernisation of the first batch of T-64 MBTs. As a result of the modernisation, the tanks, which were designed originally more than 30 years ago, will reach the level of up-to-date vehicles in the key areas of mobility, protection and firepower.
From this time onwards, the crews of the modernised vehicles will be able to be trained on the state-of-the-art training aids, viz. motion-based computerised training simulators.
The simulators, as developed by the Kharkiv Morozov Machine Building Design Bureau, create realistic simulation of the environment in which the tank crewmen find themselves during tank movement and firing.
As is emphasized by representatives of this Ukrainian company, the up-to-date training aids are very cost-effective. They make it possible to save the service life of real vehicles as well as saving fuel, lubricants and ammunition. Besides, the quality of training even excels the quality of training on a real tank, as the instructor can monitor the training much better. There emerges a possibility of training the personnel how to act under the conditions which are difficult to arrange and are expensive to imitate in reality (e.g., operations in urban environment, operations under the conditions of use of mass destruction weapons), and a possibility of training on real maps before fulfilling combat missions.
During trials of the simulator, several persons, having undergone training on the simulators, immediately showed an excellent performance on real tanks.
On average, the payback period of simulators of the kind is about 6 months.
Before the Ukrainian Army ordered this up-to-date equipment, the Kharkiv Morozov Design Bureau had supplied it to a number of foreign customers.