Bumar Labedy represents the PT-17 MBT on the MSPO 2017
Category: Exhibitions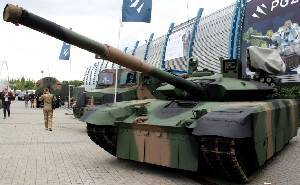 On MSPO 2017, the Polish company Bumar Labedy introduced a technology demonstrator designated by them as PT-17.
This is a joint project between the Polish company Bumar Labedy and the Kharkiv Morozov Machine Building Design Bureau (KMDB) from Ukraine. The Ukrainian company supplied a turret with a gun of 120 mm caliber and autoloader. Other components, such as 6TD-2 tank engines with a power of 1,200 h.p. and an auxiliary power unit also can be supplied by Ukrainians.
Last year, during MSPO 2016, Bumar Labedy introduced the PT-16 as a proposal for upgrading the T-72 and PT-91 tanks.
The technology demonstrator, presented on MSPO 2017, is based on the chassis of the PT-91M άΘΕ. It is powered by a 1000-h.p. S-1000R diesel engine, produced by PZL Wola. At the basis of the turret of the new tank is a construction that was used in the technology demonstrator of the KKBM, known as the T-72-120, which was shown at the Eurosatory exhibition in Paris in 1999. It is equipped with a KBM2 120 mm smoothbore gun, which is based on the 2A46M 125 mm tank gun and is compatible with NATO ammunition. The autoloader provides a rate of fire from 5 to 9 rounds per minute.
On the PT-17 MBT can be installed various types of add-ons armor, both passive and ERA - it all depends on the needs of the customer. The Ukrainian company Mikrotek also can supply ZASLON active armor. Currently, it is planned that the PT-17 will be equipped with a Safran-15 fire control system with a gunner's thermal sight and a VIGY-15 panoramic commander sight. However, the demonstrator presented in Kielce is equipped with two day-night optoelectronic devices GOC-1 NIKE and GOD-1 IRYS, supplied by the Polish company PCO. The final configuration depends on the requirements of the customer.
Sergyi Way
07.09.2017



www.army-guide.com
Share...





Rheinmetall at MSPO 2017
06.09.2017
Jenoptik receives follow-up contracts for retrofitting Leopard 2 tanks
22.03.2017
Jenoptik to supply equipment with a value of 22 million euros to Poland for military land vehicles
21.10.2016
Rheinmetall to upgrade 128 Polish Leopard 2 main battle tanks
24.02.2016
BUMAR LABEDY S.A. Zaklady Mechaniczne
Discuss